Brady: Every Indicator Shows Recession Within the Year
"The Conference Board's Leading Economic Index fell to .4 percent for the last six months. That has for the last 60 years been followed by recession," Ways and Means Republican Leader Rep Kevin Brady (R-TX) said on CNBC's Squawk Box, warning that every indicator shows the economy will be in a recession within the year.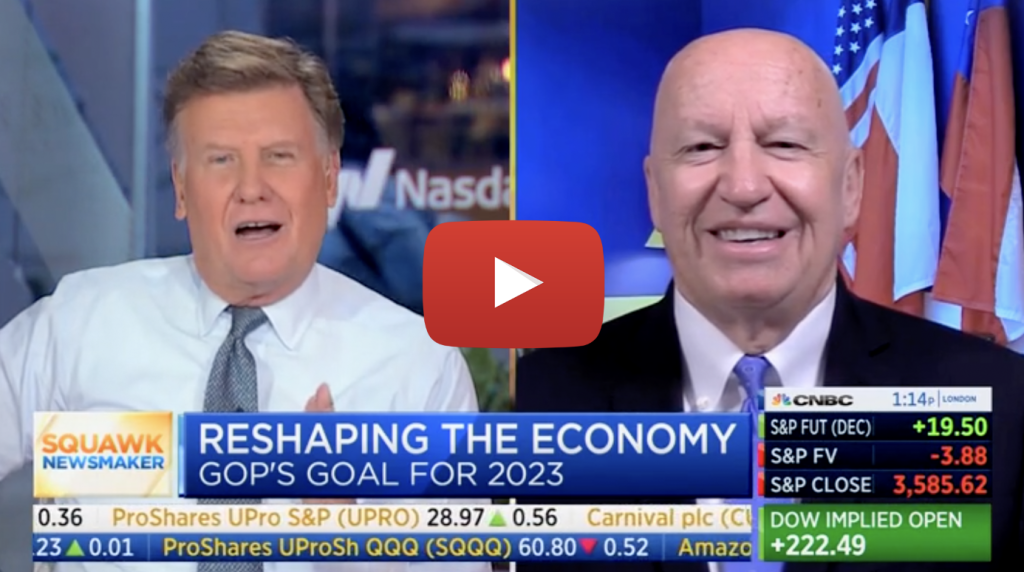 CLICK HERE to watch.
President Biden's policies have weakened American energy independence.
"It's been frustrating to say the least. While we talk a lot about energy independence, energy security, what we really mean is not being dependent on OPEC and other countries' decisions on supply issues for the price of oil. 

"Under President Trump, America really was the market maker here on energy prices. No more is that the case. There is so much more we could do to expand supply here, as well as help supply our allies in this war against Putin and level the prices out, create more of that stability. This is a self-inflicted wound from the president and he still has time to course correct, but no one believes he will."
Energy independence is key to getting the economy back on track.
"It's just frustrating for many of us to see a U.S. dependent on Saudi Arabia, Iran, or Venezuela for energy supplies when it is so abundant, it's affordable, and it's environmentally responsible right here in the United States. That's the bottom line: Why are we running this path when we're so vulnerable to others' decisions?"
President Biden has led the economy into a recession within the next year.
"Every indicator shows that. I noticed the Conference Board's Leading Economic Index fell to .4 percent for the last six months. That has for the last 60 years been followed by recession. We're either in it or close to it. Certainly we have a pretty dangerous wage-price spiral. No country wants to be in it, and we're deeply in it. We have stagflation, just the traditional definition of it.

"What worries me is I'm not sure the Fed knows what the unemployment rate needs to be to decelerate inflation. Therefore I don't think they know what the economic growth should be slowed to achieve that. I'm just worried that they're winging it here trying to get the President's inflation down."

Brady: Every Indicator Shows Recession Within the Year