Brady: Green New Deal-style Policies Push Higher Prices on Patients
Democrats' policies that restrict energy result in higher prices that providers pass on to consumers – making the inflation crisis even worse, Ways and Means Republican Leader Rep. Kevin Brady (R-TX) said in opening remarks before a full Ways and Means Committee hearing.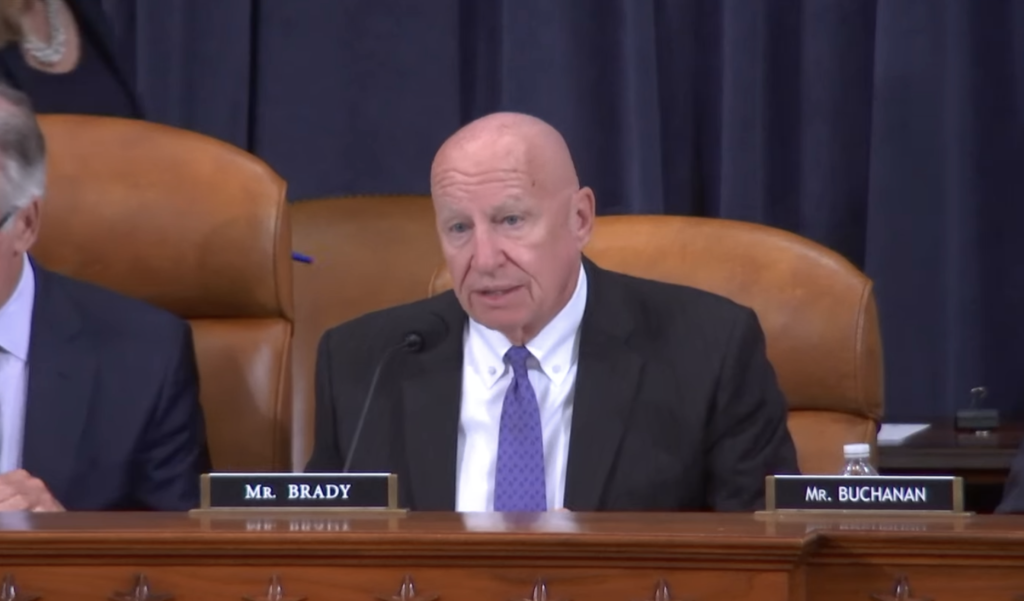 CLICK HERE to watch.
Rep. Brady's full remarks as prepared for delivery appear below.
Thank you Chairman Neal for hosting this hearing today, and thank you to all our witnesses for joining us.

 

Helping our hospitals, clinics, doctors, and health care providers serve their communities should be a straightforward, bipartisan effort, especially after witnessing the crisis during a once-in-a-lifetime pandemic.

  

Unfortunately, our front-line health workers are scrambling once again, but this time, under the strain of Green New Deal-style policies.

Providers need access to reliable power and robust supply chains that can withstand whatever nature throws their way. 

Health care providers throughout California and other parts of the country are struggling with blackouts. Back-up generators are failing.

 

This isn't just happening in the U.S. Similar policies have worsened Europe's energy crisis, with major power distributors collapsing and some major power generators at risk.

 

With gas prices now 400 percent higher than a year ago, countries are moving to backstop their biggest utilities to keep them from collapsing.

  

Despite this clear evidence of policy failure that puts lives at risk, unfortunately many Democrats in Congress have doubled down. 

The so-called "Inflation Reduction Act" spends a quarter of a trillion dollars in subsidies to the wealthy and the largest corporations, and is projected to fail to lower global temperatures. 

Using UN climate change models, the bill will reduce global temperatures by as little as 0.009 degrees Fahrenheit over this century. 

These disastrous policies will only result in skyrocketing energy costs, failing energy grids, and an increase in energy poverty.

These higher costs will especially burden low-income families this winter who will have to choose between heating their home and buying essentials.

Health care providers and the patients who rely on them will also become more vulnerable to severe weather events.

 

We need to be cautious about imposing on local hospitals more expensive, ineffective Green New Deal initiatives that fail to address climate change. It is risky and will push prices on patients even higher. 

Patients, desperate for care, have no choice but to pay or go broke trying.

 

It's clear that hospitals need reliable and affordable sources of energy, not risky, expensive renewables that jeopardize health care providers and their patients during times of crisis.

This adds fuel to the fire of an already destructive inflation crisis that has families dipping into their retirement savings to stay afloat.

Record-high inflation is a top concern for families as they struggle to keep up with the rising costs of rent and food. Health insurance inflation is already 17 percent.

  

To make it worse, Democrats' new methane tax means a 17 percent increase on an average family's natural gas bill – and likely much higher for our health providers.

 

Shouldn't we be finding ways to give our front-line health providers everything they need to prepare for the next crisis?

 

Instead, while passing higher taxes to be borne by working Americans, the President and congressional Democrats provide lavish Obamacare subsidies for the wealthy.

They do this even as the price of health insurance has continued to rise not in spite of, but because of Obamacare's existing subsidies that provide little incentive for insurers to keep prices low. 

The result will be even greater premium increases that will strike well before a major weather or health crisis.

 

What about being prepared with breakthrough medicines and treatments? Well, under the new law, you're out of luck.

 

Not only do studies show socialist drug price controls in the Inflation Reduction Act will kill well over 300 cures in the long term, Congress's non-partisan scorekeeper finds that drug prices will increase in the short term. 

Hospitals and pharmacies will have to pay more to stock up for emergencies.

 

Instead of pursuing catastrophic Green New Deal-style policies, we should focus on more pressing health care issues facing America, including a crucial shortage of nurses, physician burn-out, delayed payments for health care providers, permanent telehealth reform, intrusive government-mandated health care, a fentanyl crisis, and a social isolation crisis fueled by government shutdowns that more often affect vulnerable populations.

Republicans believe in lowering energy costs for hospitals and consumers, creating American jobs, and providing economic and energy security for families with American resources.

That said, while we have differences on policies and approaches, Mr. Chairman, let me assure you Republicans on this committee are open-minded in finding ways to make sure our hospitals and healthcare providers have affordable, reliable, resilient energy.

With that, I yield back.