Brady: U.S. Must Act Quickly to Strengthen Trade with Taiwan and Counter China
It is more important than ever to intensify our trade relationships with Taiwan and around the world as China continues its economic aggression throughout the Asia-Pacific and beyond, Ways and Means Republican Leader Rep. Kevin Brady (R-TX) said in opening remarks before a full Ways and Means Committee hearing on the future of U.S.-Taiwan trade.
America ought to lead the world by negotiating cutting edge new trade agreements – not sit on the sidelines as President Biden continues to maintain a trade moratorium.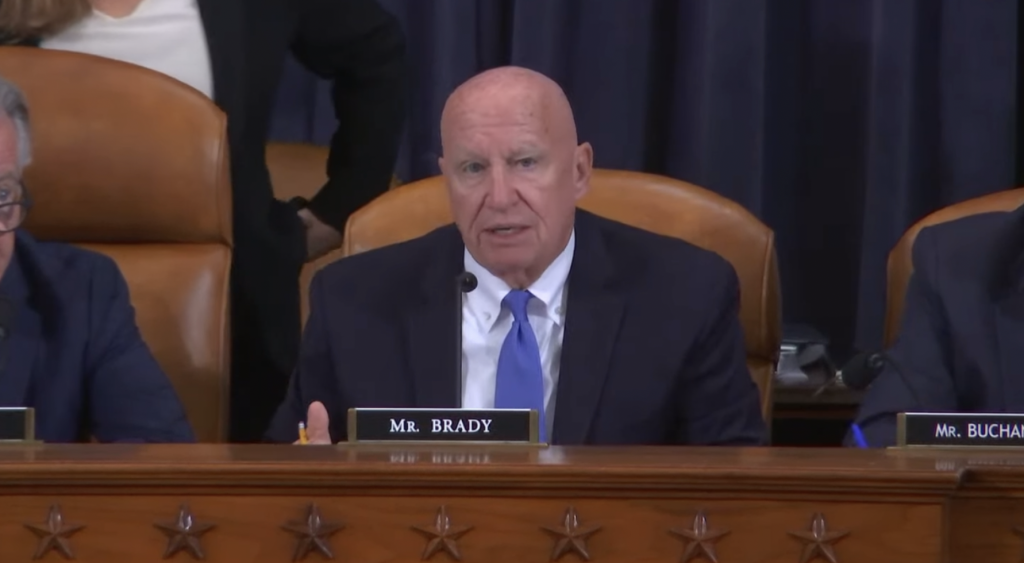 CLICK HERE to watch Rep. Brady's remarks.
Rep. Brady's full remarks as prepared for delivery appear below.
Thank you, Chairman Neal, for holding this important hearing and thank you to our witnesses for joining us today. 
It is a great pleasure to have Russell Boening from my home state of Texas testifying before the Committee once again. 
The United States and Taiwan have many shared values and a robust trade relationship. 
Congress has long supported stronger trade engagement with Taiwan, including for decades under our bilateral Trade and Investment Framework Agreement (TIFA). 
It has never been more important than now to intensify this engagement, as China continues its economic aggression throughout the Asia-Pacific and the world.
It's been frustrating. The Biden White House has refused to counter China's economic aggression and predatory trade practices, and instead sits on the trade sidelines, imposing a moratorium on new U.S. trade agreements—which allows China to shape agreements that advantage its farmers, workers, manufacturers and tech companies over America's. 
Our country cannot be viewed as serious about pursuing a trade agreement with Taiwan if President Biden continues to oppose Trade Promotion Authority to authorize the President to negotiate trade agreements that achieve Congress's objectives. 
The U.S.-Taiwan Initiative on 21st Century Trade is welcome, but it's not enough. 
The Biden Administration's unsatisfying new trade approach focuses on working groups, frameworks, and dialogues. But that's not enough. 
I fear that if we remain on this course, we won't reach the concrete outcomes and meaningful enforcement that ensure open trade and lift populations out of poverty.
These shortcomings have only made things harder here at home.
American workers and small businesses have been struggling in this  cruel economy for far too long. 
Instead of working to level the playing field and strengthen our economy, the president has insisted on higher taxes on Made-in-America manufacturers, lavish subsidies that discourage the jobless from reconnecting to work, and a trade moratorium that surrenders to our global competitors.
To strengthen our economy, we need more workers and more customers that come from trade.
We know that we can work together on trade in a bipartisan way as we did with the United States-Mexico-Canada Agreement, which Chairman Neal and our Democrat colleagues were key to finalizing.
We've seen how the ability to buy, sell, and compete anywhere in the world can lift people and communities –and American workers – up.
We have a very strong U.S. Trade Representative in Ambassador Tai and I believe if she were put to work opening new markets for American businesses, reducing trade barriers, strengthening supply chains, and enforcing trade rules that are all vital to putting America first, it would have a serious positive economic impact.
USMCA helped us achieve that with our neighbors, but more must be done to open markets and strengthen supply chains, in Taiwan and around the world.
America ought to be leading the world by negotiating cutting edge new trade agreements. 
It's time for the administration to get serious about engaging with Taiwan and other key partners in the indo-pacific region, or risk the United States being cut out of these countries that increasingly rely on other trading partners.
I do support Ambassador Tai's increased engagement with Taiwan throughout the region, but again frameworks and dialogues are no substitute for trade agreements. 
As the Chairman said, the Constitution vests Congress with the authority to regulate commerce for nations. Any framework or other trade agreement that is not approved by Congress is legally dubious and won't result in the durable trade policies that reliably create new opportunities for our farmers, our small businesses, and our workers.
I am an ardent supporter of strengthening ties with Taiwan. The Trump Administration made solid progress for certain U.S. exports – such as beef and pork.  
Now, Taiwan must step up to ensure American exporters and investors are treated fairly and abide by the trade commitments that it has already made. If it does so, I would support pursuing a comprehensive trade agreement with Taiwan.
Trade Promotion Authority should not have been allowed to expire, because it forecloses any prospect of new trade agreements. 
Without this powerful tool, the United State Trade Representative in this or a future administration won't have the authority to negotiate new trade agreements that promote America's economic interests with Taiwan or across the globe.
It was a mistake to allow two crucial job-creating programs, GSP and MTB to have expired. They have now lapsed for almost two years.
Inaction on these key programs is causing American companies and their workers to lose out to foreign competitors, and additional delay will only increase this impact.
The bottom line is: America's leadership is at its best with a strong economy – one that promotes domestic production, stronger supply chains, and one that is ready to conduct tough and fair trade negotiations with key trading partners, like Taiwan.
With that, Mr. Chairman, I yield back.
​