Brady: Unfair Student Debt Giveaway Will Drive Inflation and College Costs Higher
Hardworking Americans who sacrificed to pay for their own college or for their children's college will now have to pay off someone else's debt with President Biden's inflationary student loan mass giveaway, Ways and Means Republican Leader Rep. Kevin Brady (R-TX) said on Cavuto Coast to Coast on Fox Business in an interview with Neil Cavuto.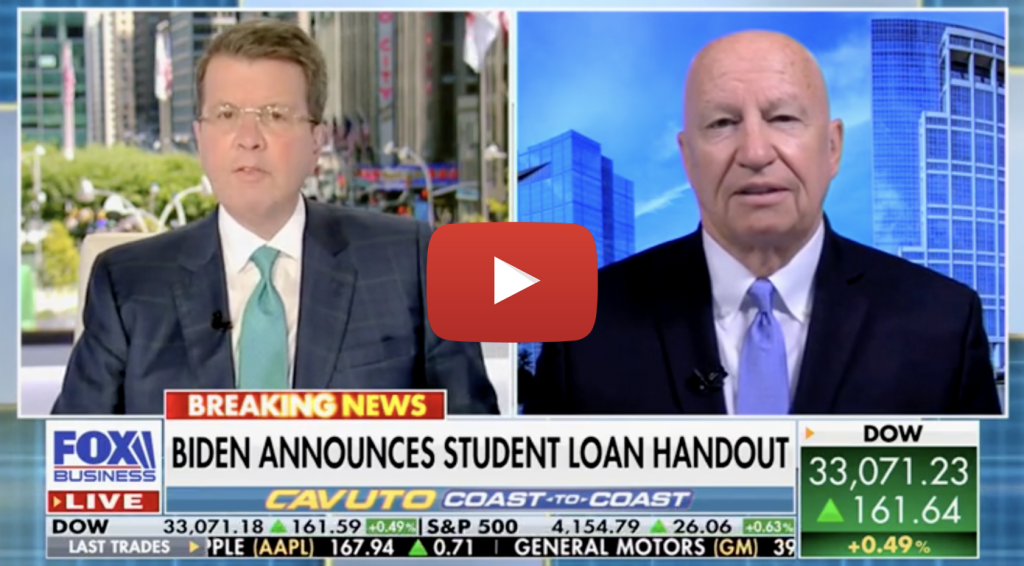 CLICK HERE to watch.
President Biden's student loan giveaway benefits top earners and highly educated grads most and will worsen inflation.
"I don't believe this is legal. The president is trying to use taxpayers as a personal campaign slush fund. It's wrong and I don't believe he has the legal authority to do it. 

"I have a neighbor who is a detective, who worked three jobs as long as I've known him, including selling carpet. His wife also worked to make sure that their daughter could go to a good quality state college and come out of there debt-free. 

"Now, after all that sacrifice, they have pay off the debt of someone else's student loan. Under this scheme, you've got a single mom who will pay off the debt for a computer scientist. A plumber will pay off the debt for a physician's assistant. You have a janitor who will pay off the student debt of an IT architect or a psychologist. How is that fair in anyone's world? It just isn't. It is illegal, it's unfair, and it will drive inflation and college costs higher."
READ: Analysis: Biden's Student Loan Giveaway Would Benefit Highest Earners Most
Americans are rightly concerned with President Biden's mass giveaway as inflation rages.
"I worked a lot of jobs through college from construction worker, janitor, meatpacker, bartender, waiter, and still had a small student debt I had to pay off over the years. There are a lot of Americans who have done the exact same thing who believe this is absolutely unfair."
READ: More Than Half of All Americans Fear Biden's Student Loan Forgiveness Plan Will Worsen Biden-Flation
Biden's student loan giveaway will do nothing to solve and make college more affordable. It will only add to the deficit and result in higher tuition.
"Giveaways and bailouts always encourage more giveaways and bailouts, especially of this size. We are in debt already. The infrastructure bill isn't going to reduce debt and neither is this latest Inflation Reduction Act going to reduce inflation or the debt in any way. 

"We have a worker shortage. We need trades, we need skills, we need drivers, and we need assembly line workers. 

"Can you imagine if a fraction of that was devoted to reconnecting to work and higher skilled jobs that our economy desperately needs? That could actually grow the economy and give people opportunity, rather than just pay off the debt for those who got a degree and still owe that debt."
READ: If You Didn't Like Working to Pay Off Your Student Loan, Wait Until You're Forced to Pay Off Someone Else's
President Biden's student loan giveaway puts the economy on the back burner once again.
"We saw those ongoing stimulus checks and lavish unemployment benefits create the expectation that there will be more, and discouraged people from reconnecting to work. We still see the hangover from that. It is human nature. 
READ: Democrats' Policies Discourage Americans from Returning to Work