Brady: We Need More Energy and Workers, Less Taxes and Regulation
For Americans skipping meals and delaying their retirement in President Biden's cruel economy, there's nothing worth celebrating about Democrats' "Inflation Reduction Act" that will make inflation even worse, Ways and Means Republican Leader Rep. Kevin Brady (R-TX) said on Varney & Co. on Fox Business.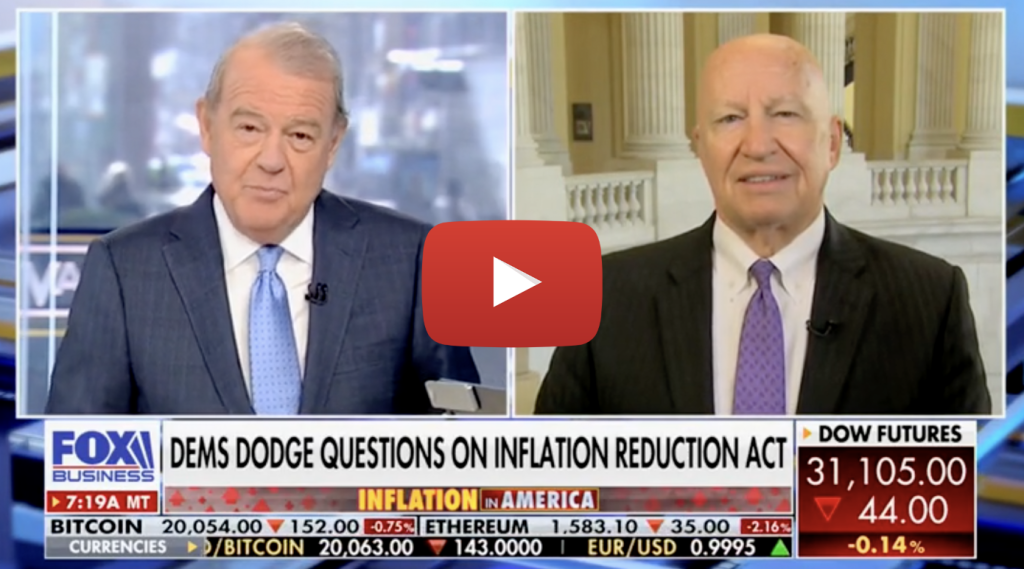 CLICK HERE to watch.
Americans are struggling in President Biden's cruel economy.  Democrats' so-called "Inflation Reduction Act" will make inflation even worse.
"It will make [inflation] worse, especially in the short term. There's no real deficit reduction, or change in global temperatures either. 

"For most Americans, there's nothing to be celebrating here. This is a very cruel economy under President Biden. We see them skipping meals, having trouble making their rents or their mortgage payments. 

"One out of four Americans are delaying their retirement because they can't figure out how to make ends meet with this crushing inflation under President Biden. 

"And I don't even think those higher home housing prices have really entered the Consumer Price Index yet. I worry about home heating fuel going up especially as we enter the winter months. 

"We are in a wage price spiral. The White House is in denial about this as well, but that's going to drive inflation as we saw with the wholesale prices yesterday, inflation is here to stay and it's crushing."
READ: Fact Check: Independent Studies Debunk Key Claims About Democrats' Inflation Bill
Democrats fueled inflation and will make it worse with $700 billion in new spending.
"As Republicans, one of our core principles in our new 'Commitment to America' will be an economy that is strong, and a major part of that is getting this inflation under control. First part of the solution is to stop fueling it. 

"Democrats are making it worse with this $700 billion spending. We need more energy and more workers, we need less taxes and less regulation. All those costs are ending up in inflation. 

"There are some pretty common sense approaches here. Will the President go along with that? No. He is determined to wreck this economy and frankly, I've never seen an economy and a recovery wrecked so thoroughly and quickly as this President."
Republicans will soon unveil their "Commitment to America" to get the economy back on track.
"Our belief is, after watching the President's dismal performance and this Congress run by one party, Americans want some real solutions here. An economy that's strong, communities that are safe, a government that's accountable, and a future that's more free than the one we have today.

"You'll see specific policies House Republicans are going to govern on. It's one of the best I've seen in a long, long time. I think it's exactly what the country needs right now."