Brady: Working Americans Will See More Audits as a Result of Dems' IRS Expansion
Treasury's own documents show it will target working families by supercharging the IRS 87,000 new agents, debunking false claims by Democrats that there are "no new IRS agents" in Democrats' bill, Ways and Means Republican Leader Rep. Kevin Brady (R-TX) said on "Fox Across America with Jimmy Failla" on Fox News Radio.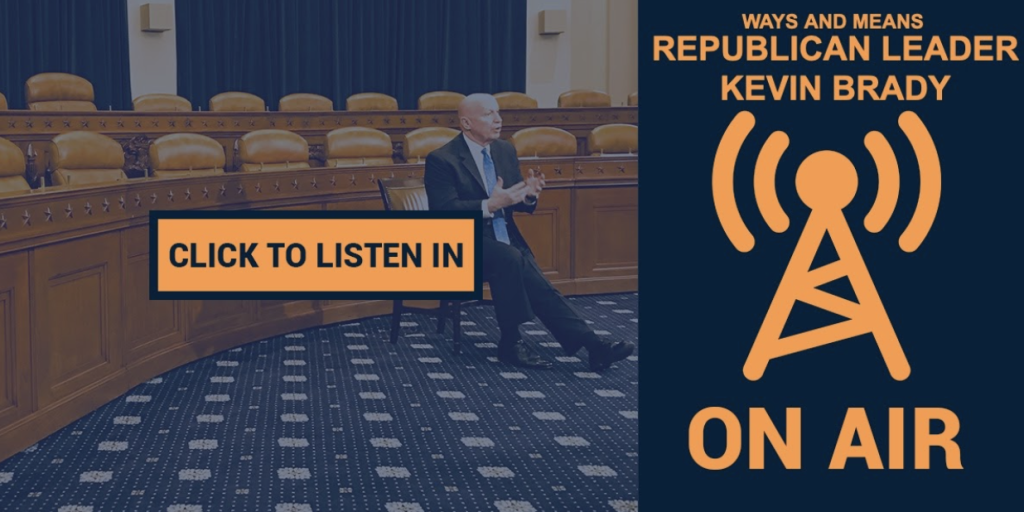 CLICK HERE to listen.
Democrats' so-called "Inflation Reduction Act" is false advertising. Studies confirm it worsens record-high inflation on American families and small businesses.
"None of it's going to reduce inflation – the spending, tax hikes, and  Green New Deal meets corporate welfare. You don't have to take our word for it, either. The University of Pennsylvania's Wharton School of Business thinks that inflation may actually go up higher starting next year because of this bill. 

"And none of it is going to cut the budget deficit at all. There'll be almost near zero lowering of global temperatures through the rest of the century as well. This whole bill is a hoax."
READ: Fact Check: Manchin-Biden Bill Loaded with Special Interest Giveaways
Democrats and sympathetic media outlets are repeating misleading claims that a supercharged IRS with 87,000 new agents will not target lower- and middle-income earners.
"Their claim that there's no new IRS agents here is so easily debunked, it's remarkable. How do you squeeze $200 billion more out of middle-class taxpayers without more agents? The answer is you can't. 

"The Treasury Department's own documents they released last year show a plan to add nearly 87,000 new IRS agents and it will focus on working families, those budget shoppers that you and I see in Walmart and Target and Marshalls and others. They're going to see 700,000 new audits as a result of this bill."
READ: Even Treasury Admits Potential for New IRS Audits of Middle Class