"Middle-Class Families Ought to Be Worried" – Shoppers on Tight Budgets to Face 710,000 Additional Audits by Supercharged IRS
Lower- and middle- income shoppers on tight budgets will face 710,000 additional audits as the primary target in Democrats' expansion of the IRS, Ways and Means Republican Leader Rep. Kevin Brady (R-TX) said on "The Story" on Fox News with guest host Gillian Turner.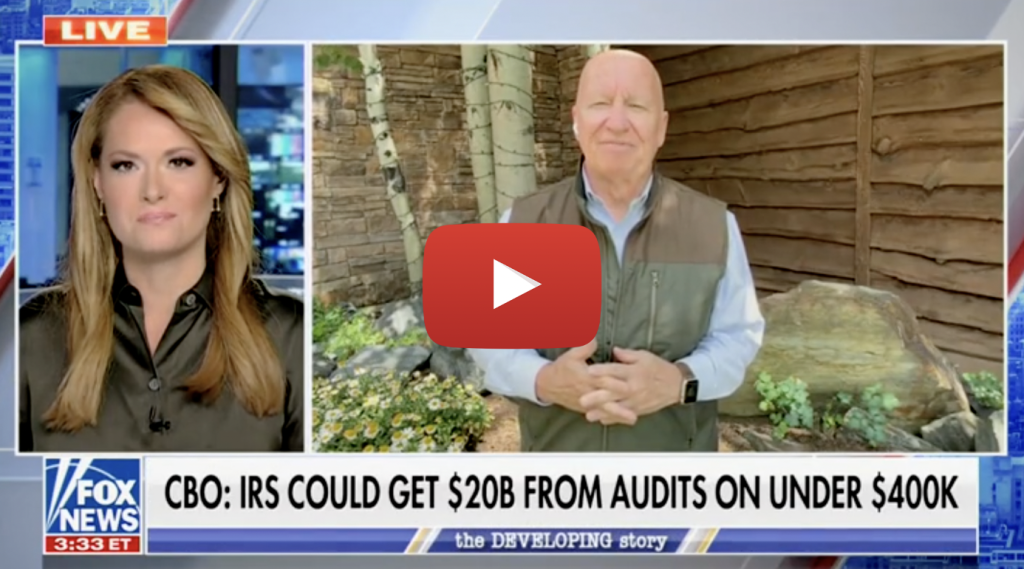 CLICK HERE to watch the full interview.
Democrats' IRS expansion will unleash 87,000 new agents on American taxpayers:
"As you know, Democrats and President Biden have been focused on increasing audits and IRS surveillance of family-owned farms, small businesses, and workers."

"Treasury's own documents outlined how $80 billion will go towards increasing IRS enforcement by nearly 87,000 IRS agents. The Congressional Budget Office and Joint Committee on Taxation also debunks the claim that this won't land on middle class taxpayers. 

"Here's what CBO's analysis shows: Those budget shoppers, families making less than $75,000 getting hammered by inflation and high fuel costs – they'll face 710,000 additional audits, even though they've done nothing wrong and don't deserve the harassment. Democrats are wrong in their claims. Middle-class families ought to be frightened.
READ: CBO: New IRS Audits Will Grab at Least $20 from Lower- and Middle-Income Families
Lower- and middle- income Americans are the primary target in Democrats' bill:
"The IRS audits high-income and complex tax returns very aggressively. In their conversations with the Ways and Means Committees throughout the years, privately they have told us they think the tax act cheats are family farms, family-owned businesses and middle class workers. They just didn't know how to get to them and make it politically palatable. This is how they target those individuals."
READ: WSJ: IRS Expansion to Collect Billions from Middle-Class Audits
Democrats' Manchin-Biden bill means higher taxes, harassing IRS audits, and no relief from inflation as America battles a recession:
 

"This whole thing is a hoax. It doesn't lower inflation. It doesn't lower budget deficits. It doesn't even lower global temperatures. 

"Inflation will go up more next year than global temperatures will go down through the next century. This is really a fraud and I just worry — I can't imagine doing this as America is in or headed toward a recession. It makes no sense."
READ: Brady: Manchin-Biden Bill Means Higher Taxes, Harassing IRS Audits on Walmart Shoppers, No Relief from Inflation as America Battles Recession