President Biden Repeats Zombie Tax Reform Claims to Justify Student Loan Giveaway to Wealthy
President Biden is unearthing his repeatedly debunked false claims that the benefits of tax reform went to the top one percent in order to justify a mass student loan giveaway which benefits wealthy college grads and worsens inflation, Ways and Means Republican Rep. Kevin Brady (R-TX) said on the "Brian Kilmeade Show" on Fox News Radio.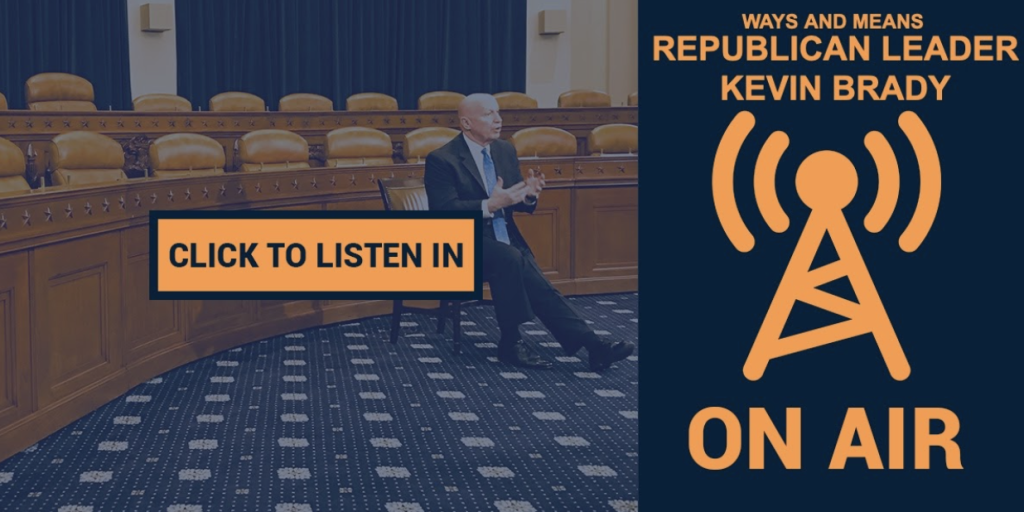 CLICK HERE to listen.
President Biden's mass student loan giveaway is paid for by low-income earners.
"The President's using American taxpayers as his personal campaign slush fund. It's immoral and unfair.

"In my neighborhood, we have a detective. He's worked three jobs as long as I've known him, including selling carpet on the weekends. His wife has a job too – just to make sure that their daughter could go to a state college and graduate with a good degree and no student debt. 

"He's worked 15 years of his life to do that. Now, the President's going to have his taxes go towards paying off someone else's student debt.

"If you look at this, you've got a single mom who will pay off the debt of a computer scientist. You've got a plumber who will pay off the debt of a physician assistant. A janitor who will pay off the debt of the psychologist whose office they're cleaning. It's just wrong."
READ: Analysis: Biden's Student Loan Giveaway Would Benefit Highest Earners Most
A student loan giveaway benefits top earners most and will worsen record-high inflation.
"The Democrats who oppose this, they're all in blue-collar districts, or blue-collar states, where working families don't don't have all this debt and they know it's going to go to people who are more well off, who made these decisions on their own. 

"This is going to be challenged in the courts. President Biden is using authority from after the 9/11 terrorist attack to do this. I'm really hopeful it's challenged in the court successfully.

"Can you imagine if just a fraction of that was spent getting people skills, developing more welders, more plumbers, more skilled trades that our economy is craving right now, what a difference that would make for families?"
President Biden has been fact checked multiple times for his false claim that the benefits of Republican tax reform went to the wealthiest.
"This claim by President Biden has been debunked repeatedly, including by liberal groups like the Washington Post. They've termed it a 'misleading zombie claim,' because it's simply not true. But that doesn't mean the President doesn't repeat that lie every opportunity he gets. 

"The bottom line is: Tax reform created more household income in one year than in all eight years under Obama-Biden, lifted 6 million people out of poverty, and for the first time in half a century reduced income inequality. Everything this President has failed at, Trump and Republican tax cuts achieved."
READ: WaPo: Another Fact Check on Democrats' False Claim About Tax Reform