President Biden's Cruel Economy Will Squeeze Every Penny Out of Taxpayers. He'll Try to Go Even Further with Repeal of GOP Tax Reform.
As we enter a recession, it's clear President Biden doesn't understand what it takes to grow jobs, the economy, or U.S. competitiveness. Repealing the Republican Tax Cuts and Jobs Act would make the cruel Biden economy even worse, Ways and Means Republican Leader Rep. Kevin Brady (R-TX) said on "The Journal Editorial Report" with Paul Gigot on Fox News. 
To squeeze every penny out of American taxpayers, Democrats will increase audits on the lower- and middle- class in an $80 billion IRS expansion – yet only 4 percent of the bill is set aside for improved taxpayer customer service.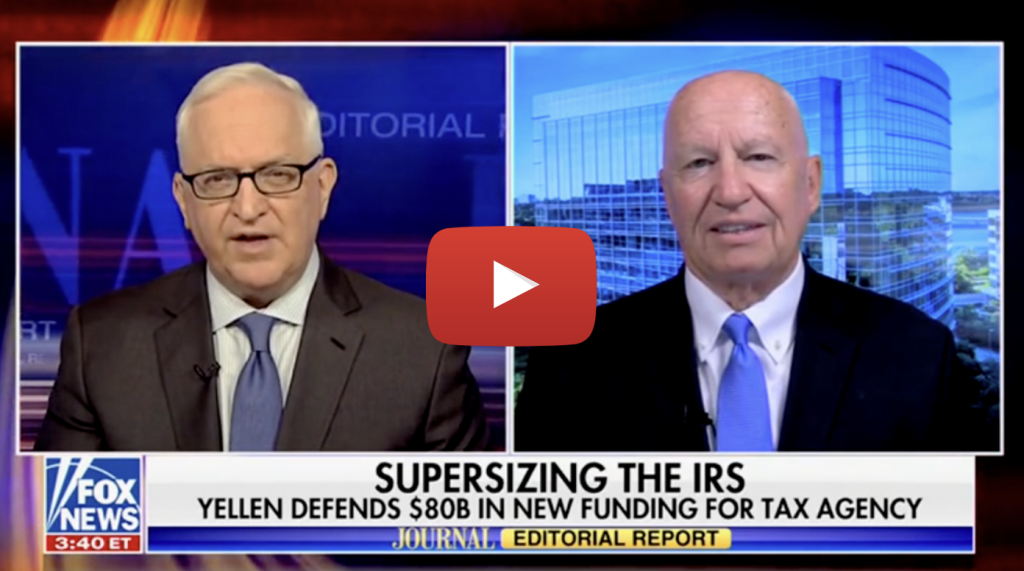 CLICK HERE to watch the interview.
Democrats' priority is to increase enforcement with higher audits on the middle class, despite a clear need for greater taxpayer customer service.
"Just a mere 4 percent of that $80 billion will actually go to customer service. And as you know, there are still almost 9 million returns that haven't been acted upon by the IRS this year, this late into the year. 

"People can't get their phones answered, they can't get the documents to file their returns. It's very clear in this law, and in Treasury's own plans for taxpayer compliance, there is ten times more of a focus on collecting taxes. There is no question those audits will increase on low- and middle-income taxpayers. 

"What I would call those value shoppers, our neighbors we see in Walmart, Target, Marshalls, or Ross, will see an additional 710,000 new audits under this bill. This from an agency that cannot even keep your taxpayer information private."
READ: WSJ: Democrats' IRS Funding Prioritizes Higher Audits on Middle Class, Not "Taxpayer Service"
President Biden's repeal of GOP tax cuts would slow growth and kill jobs.
"President Biden and Democrats in Congress have had repealing GOP tax reform in the crosshairs from the very beginning. Here in the end, they managed to levy 350 billion dollars of taxes on U.S. manufacturers, small businesses, savers, and seniors without significantly changing the Tax Cuts and Jobs Act. 

"The President has made clear he is coming after it if he continues with a Democrat Congress and he is reelected. 

"This is a President and a White House that doesn't understand the economy, doesn't understand what it takes to grow jobs or wages, or  our competitiveness. We are not resting easy."
READ: American Families and Small Businesses Suffering in Cruel Economy Will Suffer Even More with this Bill
READ: Fact Check: Independent Studies Debunk Key Claims About Democrats' Inflation Bill
Republicans have a different approach to restoring a strong economy.
"House Republicans will soon roll out our 'Commitment to America.' Our number one priority is going to be restoring a strong economy here in the United States. 

"You'll see a focus on making lower taxes permanent for families and small businesses. Keeping the incentives that grew the Trump economy so dramatically stronger and faster than the Biden economy. 

"You are going to see a focus on getting workers back and reconnected. That is going to be really key to reducing inflation and growing the economy in the future. We still have this worker crisis that is causing problems along Main Street for businesses of every size."

"We're going to focus on leapfrogging America to the most innovative nation on the planet, using the tax code and starting to be much more aggressive in competing against Germany, Europe, and others on innovation." 

"We think the country that wins that innovation race wins the future. We can do that without subsidies, without tax credits, without big government giveaways to industries. A broad-based effort that also allows our industries to compete and win against China is a smarter way to go."