A Bipartisan Agreement: It's Time to Pass USMCA
Today, wages are rising, small businesses are optimistic, and the U.S. economy continues to add jobs at a healthy pace.
Under our new tax code, folks have more money in their pockets to spend on what they see fit, and local businesses are expanding like never before.  And to maintain our strong economy, it is not enough to simply buy American – our businesses must also be able to sell American.  That's why it is vital that Congress pass the United States-Mexico-Canada Agreement (USMCA).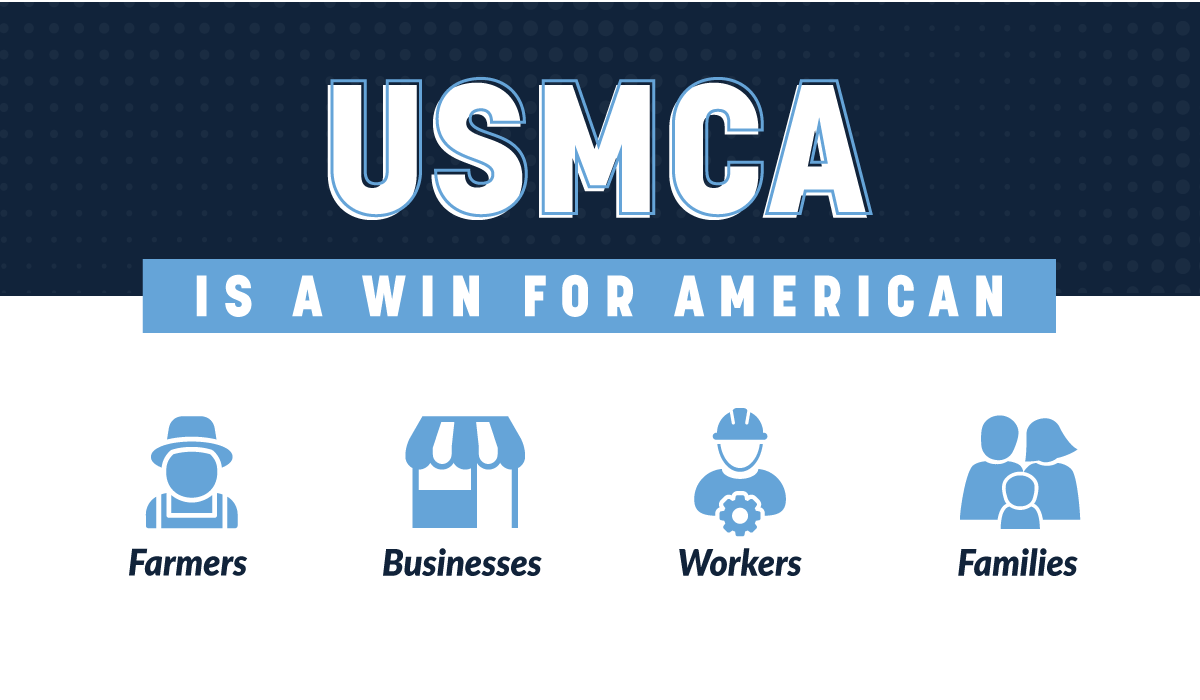 There is bipartisan agreement on this front: each day that Congress delays in passing this new trade agreement, our country will be losing out on more jobs, customers, and a stronger economy.
House Republicans have been working tirelessly to build support for this important deal, and dozens of Democrats across the country agree that we cannot afford the cost of delay. 
14 House Democrats wrote to Speaker Nancy Pelosi (D-CA): 
"We write in support of continued negotiations through the upcoming recess, to ensure a vote on a bipartisan agreement by the end of this year.  It is imperative that we reach a negotiated agreement early in the fall. Canada and Mexico are by far our most important trading partners, and we need to restore certainty in these critical relationships that support millions of American jobs."
Rep. Henry Cuellar (D-TX), leading a Congressional Delegation to Mexico City, said: 
"I will continue to support the USMCA because of the positive impacts it will have on a broad range of industries and the overall boost on the U.S. economy. Specifically, this trilateral deal is estimated to increase economic activity in the U.S. and address major labor reform."
Rep. Jim Costa (D-CA), speaking on a panel with other California Members and Secretary Sonny Perdue, expressed support for bringing the agreement up for a vote:
"We gotta make this happen." 
Rep. Greg Stanton (D-AZ) joined fellow Arizonans Reps. David Schweikert (R-AZ) and Debbie Lesko (R-AZ) to discuss the importance of strengthening our trade relationship with Mexico: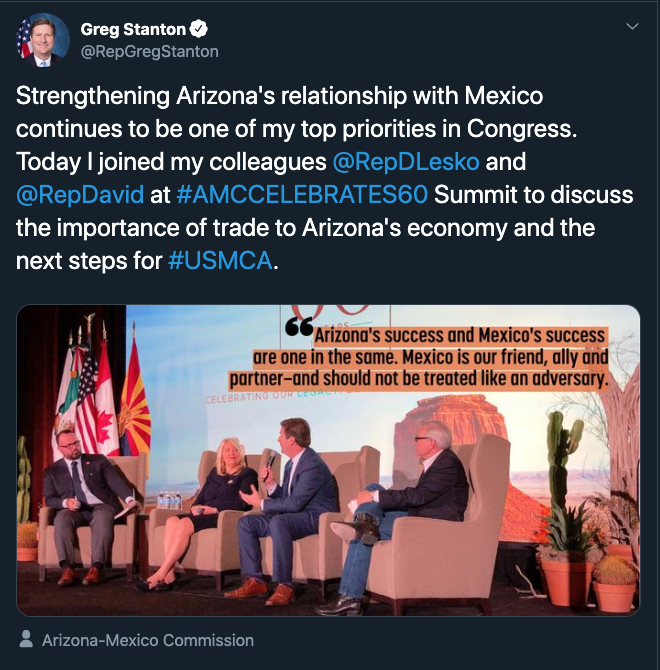 Former Senator Heidi Heitkamp (D-ND) wrote in an op-ed for the Bismarck Tribune:  
"To continue supporting North Dakota agriculture, our farmers and ranchers need trade agreements that match the reality of modern agriculture and the 21st century economy. . . . Luckily for American agriculture, a new trade agreement with Canada and Mexico called the U.S.-Mexico-Canada Agreement, commonly referred to as the USMCA, will inject new growth into North Dakota's economy."
Former Commerce Secretary Gary Locke, who served in the Obama administration and as governor of Washington, wrote in an op-ed for the Kearney Hub: 
"This deal is a historic victory for workers. It would guarantee fairer pay through wage requirements, ensure safe working environments, and strengthen workers' rights to unionize for better benefits."
CLICK HERE to learn more about USMCA and why American workers need to Congress to pass this deal with strong bipartisan support this year.