Addressing the Impact of Tariffs on American Jobs and the Economy
This week the House Ways and Means Committee, chaired by Rep. Kevin Brady (R-TX) held a Hearing entitled "The Effects of Tariff Increases on the U.S. Economy and Jobs."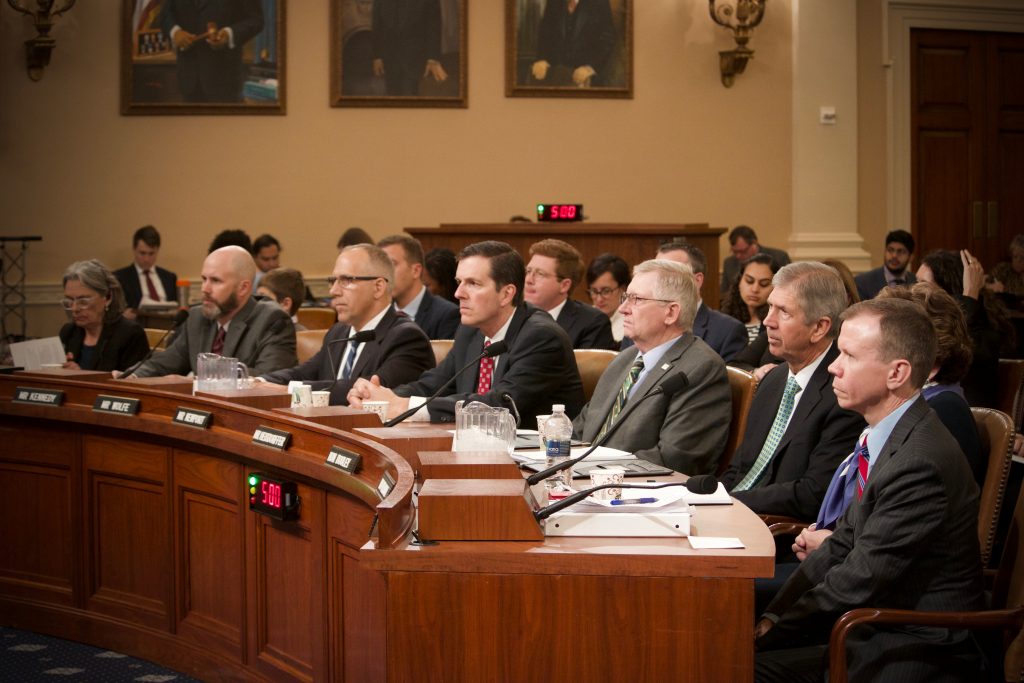 This hearing was an opportunity for the Committee to hear from business leaders across various industries about how the Administration's proposed tariffs, some of which have already gone into effect, are affecting their day-to-day operations and long-term planning.
Chairman Brady said at the start of the hearing:
"When it comes to trade, how do you avoid punishing Americans for China's misbehavior? Does even the prospect of potential higher tariffs damage our U.S. economy and harm our local farmers and businesses – especially now that due to President Trump, we have one of the most pro-growth tax codes in the world?
 "Today we'll hear from a broad range of local American job creators about the real-world impact of increased tariffs – and how to ensure that trade enforcement doesn't inflict collateral damage on hardworking American manufacturers, farmers, and families."
The Chairman added:
"I continue to believe it is vitally important for us to use a targeted approach in enforcing our trade laws, whether it is the Section 232 or Section 301 tariffs. China's distortions to the steel and aluminum market and its IP theft and forced technology demands are global problems that ultimately require global solutions.
"We should work as closely as possible with our allies, and we should never create disincentives for our allies to join us in taking strong action. The world, not just the U.S., must stand up to China's unfair trade practices."
Impact on Manufacturers:
Kevin Kennedy, President of Kennedy Fabricating, LLC in Splendora, Texas told the Committee that the steel tariffs are making his business less competitive compared to international competitors:
"One of our Canadian competitors just went from losing projects to us to now winning projects at our expense, because they can import raw steel to Canada without a tariff and buy it 40% cheaper than we can buy it from our own domestic suppliers."
Mr. Kennedy added:
"Up until now, we were an exporter. We've been manufacturing drilling rigs for years exporting them to countries like India, Russia, and even Mexico. That's not the case now."
Ann Wilson, Senior Vice President of the Motor & Equipment Manufacturers Association, added that many U.S. companies of all sizes are fearful of these proposed tariffs:
"These examples are not isolated. Over the last week, our office has fielded calls from members with operations all over the country. Please understand: tariffs will cost companies, but they will also cost our country. The price will be current jobs and future investment."
Rep. Erik Paulsen (R-MN) highlighted how tariffs will increase health care costs:
"In Minnesota, I've got medical device companies that are very worried that the proposed tariffs under 301 – on pacemakers, defibrillators, X-ray equipment, orthopedics – are going to end up making health care costs more expensive."
Rep. Paulsen asked Mr. Kennedy about the effect of tariffs on the ability of his company to plan with certainty for the future. Mr. Kennedy replied:
"Uncertainty prevents imports. … We want to compete, but we don't want our government to put up obstacles to prevent us to compete. We've worked hard to compete on our own and make ourselves competitive against our foreign competitors. But we can't be at a price disadvantage to our competitors. … We shouldn't pick winners or losers. We shouldn't prop up companies or industries that can't [compete] at the expense of those that can. That's exactly what is happening now."
Rep. Jackie Walorski (R-IN) gave multiple examples of concerns she has heard directly from job creators in her district regarding the tariffs:
"One manufacturer said: 'We've seen a 50% increase in the price of steel, mostly since the tariffs were announced. … We've raised our prices to our customers because our product is a low-margin item.' … A trailer manufacturer…cancelled an expansion he was planning with his tax cuts."
Impact on Farmers and Ranchers:
Rep. Dave Reichert (R-WA), Chairman of the Subcommittee on Trade, asked John Heisdorffer, President of the American Soybean Association, about the risk of losing market share:
"I'm hearing from my ag community that they are concerned about losing market share. … If China removes tariffs and we're back in the game again, do you expect to get those market shares back?"
Mr. Heisdorffer held out hope if we quickly end the tariffs but emphasized the risk:
"At this point, yes, if this is rescinded right now. . . . It's very hard. Those market shares will probably go to South America."
Rep. Adrian Smith (R-NE) asked Mr. Heisdorffer:
"If you could share a little bit on how tariffs that are already in place or those that are proposed: how do you see that affecting your community, and how on not only your own business but on your neighbors' planting decisions…and how perhaps banks and operating capital might be responding as well?"
Mr. Heisdorffer responded:
"Right now, farm income is down 50%, crop prices are down 40%, and that's over the last five years, since 2013. We're expecting another possibly 6% to 7% this year of lower income. We cannot afford to lose our valuable customer China. … If we lose that and we lose our exports to South America, we're going to end up with losing farmers."
Rep. Lynn Jenkins (R-KS) added that additional tariffs will only double down on other struggles that the Kansas agriculture community is facing:
"President Trump achieved a great victory last year by reopening the Chinese market to U.S. beef for the first time in more than a decade. But, unfortunately, China has placed U.S. beef on a proposed tariff retaliation list, which could erase the gains our cattlemen and women have made in the Chinese markets."
She added:
"[T]here is an extreme and exceptional drought that is creeping across most of Kansas, diminishing the odds for bumper crops and resulting in extraordinary measures to protect our livestock. Every producer knows that access to foreign markets and low trade barriers are crucial for rural America – even in the best weather conditions but especially so when the weather turns sour."
The Committee will continue to work with the Administration to ensure that any potential tariffs are targeted against unfair trade and that American manufacturers, workers, and farmers are not harmed.
CLICK HERE to learn more about this week's hearing.