Biden's Tax Hike Plan Exposed for Hitting Families
President Biden has urged a full repeal of Republican tax reform, which would lead to a tax increase on most Americans. He has also offered that "Anybody making more than $400,000 will see a small to a significant tax increase. If you make less than $400,000, you won't see one single penny in additional federal tax." Americans for Tax Reform helpfully documented over 56 times in which he and now-Vice President Kamala Harris have made this pledge.
But it's unclear whether he knows whom he intends to tax, or if he'll play it straight with the American people.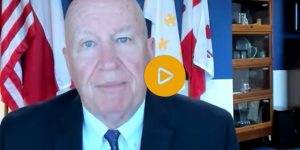 Many of the dangers of Biden's tax plan were highlighted today in a meeting of Ways and Means Republicans hosted by Rep. Brady. (To see that event, click here.)
The Washington Post reports that the distinction between families and individuals makes a big difference in who will be hit by taxes at the $400,000 income threshold.
The White House spokesperson said tax hikes could hit "families," not just "individuals" earning over $400,000. White House Press Secretary Jen Psaki said that those making less than $400,000 could be hit by a tax increase because the tax increase would apply to "families"—which "raised the possibility that individuals (or married people filing separate returns) making less than $400,000 would face higher taxes."
Biden has repeatedly promised the opposite and has yet to correct himself definitively. In addition to the 56 times Biden has made this pledge, the Washington Post reports that "various think tanks conducted studies of the Biden plan, and all said they based their calculations on the assumption that individuals making less than $400,000 would not face a tax increase."
Democrats' ambitious spending plans mean tax hikes on everyone—not just the rich. As the Wall Street Journal writes, "This is a familiar tax bait and switch. Democrats promise they'll tax only the rich, but there aren't enough rich, and the rich don't have enough money to finance the Democratic Party's endless spending schemes. Millions of the Americans Mr. Biden wants to tax aren't rich. They are successful Americans, typically at the peak of their earning lives, who might make $200,000 for a few years."
CLICK HERE to read the full article.