Brady: Bernie's Budget is a Green Light for Crippling Tax Hikes on American Families and Small Businesses
WASHINGTON D.C. – As House Democrats work to ram through Sen. Bernie Sanders' $3.5 trillion budget, Ways and Means Committee Republican Leader Rep. Kevin Brady (R-TX) urged pro-small business Democrats to oppose crippling tax hikes on working families and small businesses on Bloomberg's Balance of Power. 
"I'm fighting hardest of course against these $3.5 trillion of tax hikes. They'll be crippling for Main Street businesses, certainly they'll land on working families, but most importantly, we're going to drive U.S. jobs overseas. […]

 

"It's been a bit stunning to see the Speaker's absolute disdain for these moderate Democrats in her own caucus. […] They are moving forward on that massive bill, but frankly, no one knows what's in that. There's been no debate. No committee work."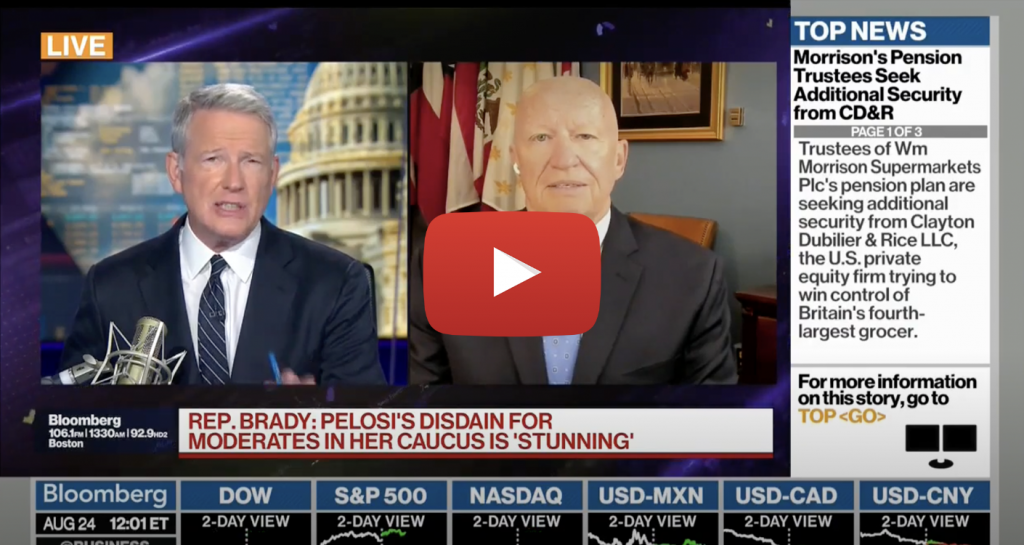 CLICK HERE to watch the full interview.
KEY TAKEAWAYS:
The Last Thing Americans Need Coming Out of a Pandemic Are Higher Taxes to Pay for Democrats' Runaway Spending. Analysis from the Joint Committee on Taxation (JCT) shows that increasing the corporate tax burden would disproportionately harm U.S. workers, retirees, and small businesses.