Brady Celebrates President Donald Trump's Inauguration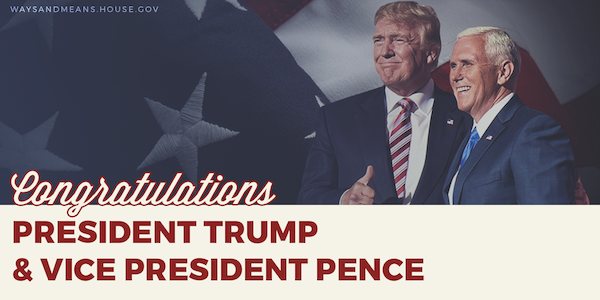 WASHINGTON, D.C. – Ways and Means Committee Chairman Kevin Brady (R-TX) today released the following statement after Donald J. Trump delivered his Inaugural Address as the 45th President of the United States.
"Today is a hopeful and historic day for the American people. Our new President laid out a new vision for our country—one that values problem solving over party politics and the people's priorities over Washington's. I enjoyed hearing President Trump express his strong commitment to creating jobs, helping more people escape poverty, strengthening today's slow-growing economy, and regaining American competitiveness around the world. The President made it clear he is not afraid to take on the tough challenges facing Americans, and Ways and Means Republicans are ready with bold solutions.
"Last Congress, we laid the foundation for pro-growth policies that will improve lives and help our economy thrive. With President Trump and Vice President Pence in the White House, we can finally move forward. I am confident that, together, we will deliver what our workers, families, and job creators have waited eight years for: results."
Earlier today, Chairman Brady was interviewed about President Trump's Inauguration and how Ways and Means Republicans are working on his ambitious agenda: