Brady joins MSNBC's "Live w/ Ali Velshi" to Discuss Dems' Request for Trump's Tax Returns, IRS Reform, Tax Season
WASHINGTON, D.C. – Today, the top Republican on the House Ways and Means Committee Kevin Brady (R-TX) joined Ali Velshi on MSNBC live from Capitol Hill.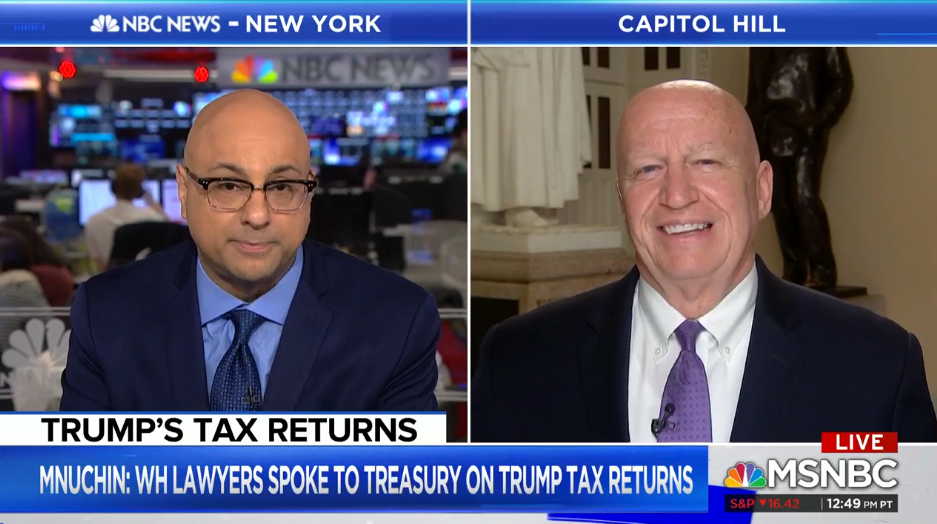 CLICK HERE or the photo above to watch the full interview.
The Texas Republican discussed with Velshi a recent request from House Democrats to obtain the President's tax returns, bipartisan legislation that passed the House today to redesign the Internal Revenue Service for the first time in two decades, and the 2019 tax filing season.
On Request for Trump's Tax Returns:
When asked on the request from Ways and Means Chairman Richard Neal (D-MA) to use section 6103 of the tax code to obtain the President's tax returns, Rep. Brady called the request "illegitimate."
"That provision is designed by law to prevent Congress from rummaging around in the personal taxpayer information of any individual for political reasons," stressed Rep. Brady.  "It is unprecedented."
On Historic IRS Reform:
The House unanimously passed today the Taxpayer First Act, legislation to make structural reforms to the IRS for the first time in over 20 years.
Led by Ways and Means Oversight Subcommittee leaders Reps. John Lewis (D-GA) and Mike Kelly (R-PA), the legislation redesigns the IRS to make it an agency truly "focused on taxpayer service," said Rep. Brady.
The bipartisan reforms passed today, Rep. Brady explained, will overhaul the agency's tools of enforcement while strengthening its abilities to protect taxpayers from identity theft and fraud.
On Tax Filing Season:
"Tax Day" is next Monday.  This is the first season that Americans are filing their taxes under the Tax Cuts and Jobs Act, an overhaul of the federal tax code signed into law December 2017.
Rep. Brady, the chief architect of the 2017 tax cuts, said, "if you look at the information" thus far regarding tax returns, "the refund sizes are tracking almost identically . . . as in the past."
"Let's let the filing season play out," continued Rep. Brady.  "At the end of the day, people want to keep more of what they earned.  That's what this tax cut did."
CLICK HERE to watch the full interview.