Brady: No One Outside the Biden White House Has Any Confidence in This Cruel Economy
President Biden has pursued spending, taxes, and regulation that fueled inflation and weakened the economy.
House Republicans will instead focus on unleashing American-made energy, connecting workers to the workforce, and investing in the supply chain to get the economy growing after Americans lost confidence in this President's ability to fix it, Ways and Means Republican Leader Rep. Kevin Brady (R-TX) said in a conversation with Maria Bartiromo on "Mornings with Maria" on Fox Business.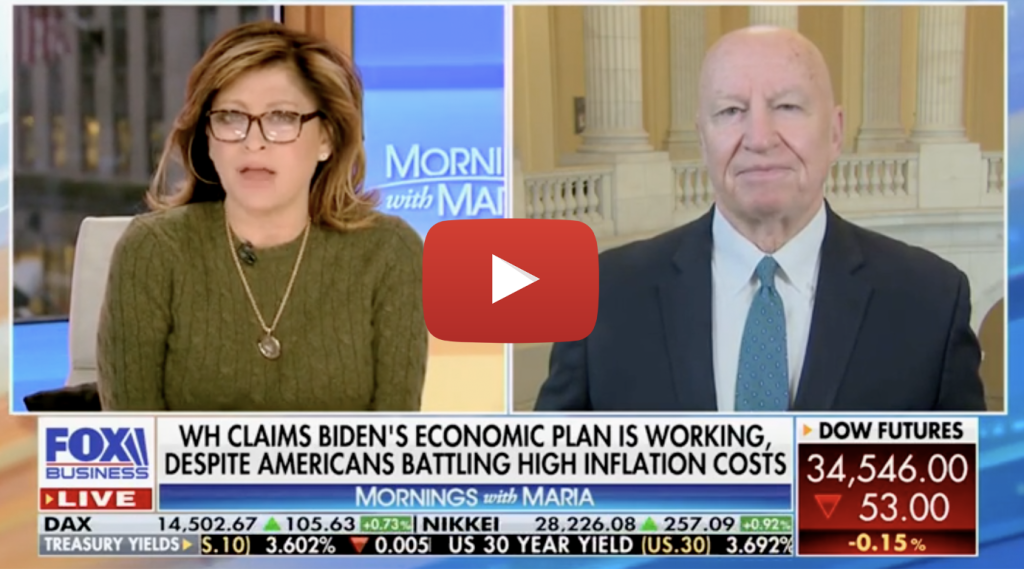 CLICK HERE to watch.
The cruel economy American families face today is even worse than the nonpartisan Congressional Budget Office projected earlier this year.
"Look, no one outside of the White House has any confidence in the President on the economy. Every survey, every poll shows it. 

"This is such a cruel economy for so many Americans. They are going into debt faster than they have in 15 years. They are digging into savings, they're skipping meals, delaying retirement, they're worried about their rent payment and prices going forward. 

"The economy is weaker than projected even last spring – prices are higher than projected, wages are lower than projected."
READ: Brady: Resurgence of Higher Prices Has Families Digging into Savings, Delaying Retirement, and Adding Historic Levels of Debt
President Biden has pursued spending, taxes, and regulation that fuel inflation and weaken the economy.
"The Fed is trying to deal with President Biden-induced inflation and looming recession, and Congress doesn't have to just stand by. Rather than what President Biden has pursued, which is more spending, taxes and regulation that fuel inflation, you will see House Republicans focusing on more American-Made energy, more workers connected to the workforce, and more innovation and more investment supply chain. 

"Even though companies are laying off a number of workers, there's still a labor shortage in many states. In Texas, we've got a million job openings this morning–that drives inflation longer and higher as well."
READ: Main Street Biz Struggle to Pay Rent and Find Workers as Economy Slows
President Biden is in denial about America's dangerous wage-price spiral driving high inflation and a recession.
"This is a problem Biden frankly caused and should be responsible for fixing. The bottom line is: Those wages are high, they are going to be reflected immediately in the cargo and other unions. Other organizations are going to seek equally high wages. 

"We are in, as you know, a wage-price spiral already. I think it's going to get worse because of the rail and union numbers." 
READ: Despite Recession Certainty, Biden Doubles Down
President Biden has created the crises the country faces.
"I think the press and the White House press team ought to be glad Elon Musk runs Twitter because otherwise their accounts would be suspended for disinformation. It's nonsense. 

"In Texas we've been pleading, inviting, urging, pushing the President instead of going around the world for climate conferences, come to your own border, see what you've wrought. 

"It is a humanitarian crisis, it's a security crisis, it's a drug crisis and they just refuse to acknowledge any of that. But I think that's going to change in our Republican House. It is one of the strongest priorities. For a nation that's safe, you have to address the southern border."