Brady on Partisan Pension Bill: "Workers Deserve Better."
Washington, D.C. – Today, the House of Representatives debated H.R. 397, the Rehabilitation for Multiemployer Pensions Act of 2019.
Rep. Kevin Brady (R-TX), the top Republican on the House Ways and Means Committee, took the House floor to speak in strong opposition of this partisan legislation, stressing that union workers and all American taxpayers deserve a real, solvent solution.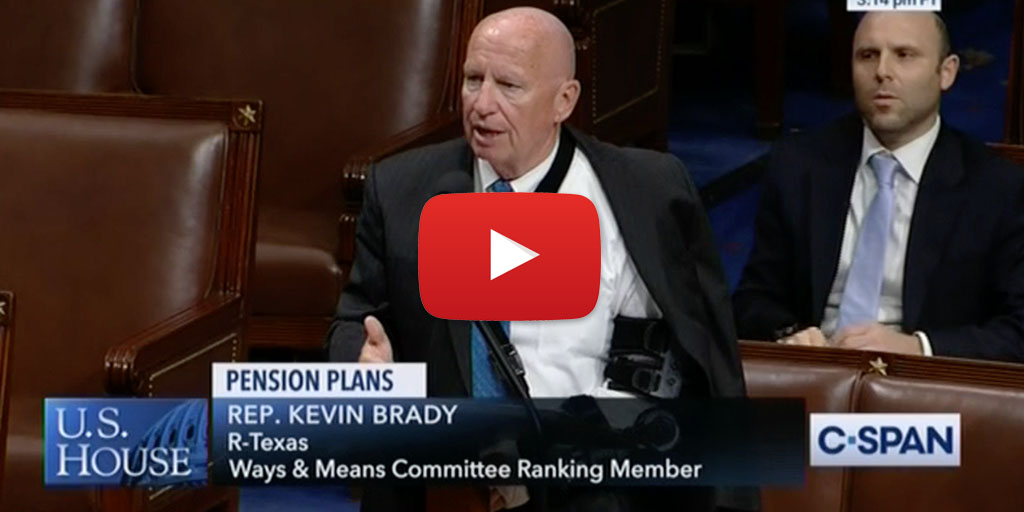 CLICK HERE or the photo above to watch Rep. Brady's full opening and closing remarks.
Rep. Brady said:
"Republicans and Democrats agree: we are in a multiemployer pension crisis."
"When there are over 1.3 million workers who are covered by union-managed plans whose pensions are set to be drained entirely over the next 10 years – that is a crisis.  And those figures only scratch the surface."
"Let's find a bipartisan solution to offer certainty, stability, and accountability to save these union-managed plans."
"I know this bill is well intended . . . but it will actually delay Congress from doing what we need to be doing." ​
"This bill doesn't take any steps to make these failing plans more stable, it won't end underfunding, and it doesn't make them solvent over time."
"Our biggest worry, as Republicans, is that is doesn't solve the problem.  And so these same workers years down the road are going to be in the same problem.  Our workers deserve better."
"To solve this issue we have to work together to get to the root of its cause: which is there are lower standards and less accountability for these union-managed plans.  That's why the promises made to union workers are worth a third of the promises made to workers in other plans – that isn't right."
"These workers put their trust in these trustees to make good on their promise – and too many failed, and too many are still failing. . . . We cannot rely on the same people who created this mess to not do the same thing and leave the same workers they already let down."
"It is the workers we worry about the most . . . they just want their promises kept."
"What our union workers need is for Congress to come up with a long-term, bipartisan solution now.  We'll need to start over, this time with Republicans and Democrats working together, to develop serious, bipartisan reforms."
CLICK HERE or the photo above to watch Rep. Brady's full opening and closing remarks.