Brady Praises House-Passed Budget: "More Jobs, Fairer Taxes, Bigger Paychecks on Horizon"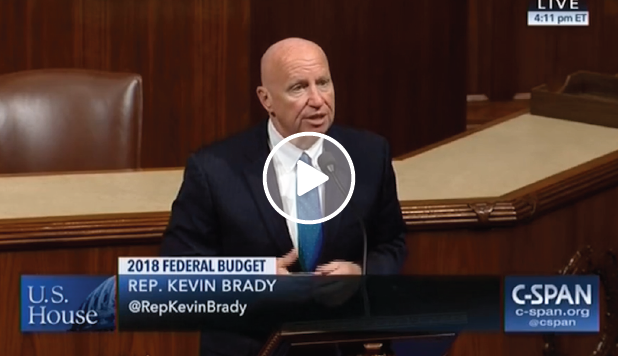 WASHINGTON, D.C. – House Ways and Means Committee Chairman Kevin Brady (R-TX) released the following statement after the House voted to pass the fiscal year 2018 budget resolution, which includes reconciliation instructions allowing the Ways and Means Committee to move forward with tax reform legislation:
"Today, the House passed one of the most significant budgets many of us will ever vote on – a budget that paves the way for once-in-a-generation, transformational tax reform. I thank Chairman Black and the Budget Committee for their leadership in moving this budget, and the tax reform process, forward. As we work with the Senate to send a final budget to President Trump's desk, we are closer than ever to finishing what we have started for the American people. More jobs, fairer taxes, and bigger paychecks are on the horizon."
CLICK HERE or the image above to watch Chairman Brady's speech in support of the budget on the House floor.