Brady Talks Tax Filing Season, SALT, Trade
The top Republican on the Ways and Means Committee Kevin Brady (R-TX) joined FOX Business' "Morning's with Maria" to discuss taxes, trade, and the U.S. economy.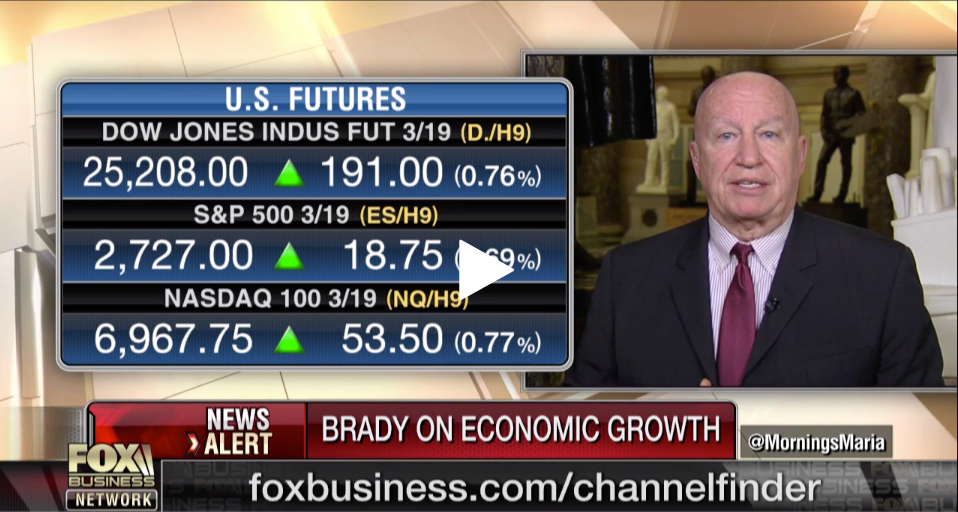 CLICK HERE or the photo above to watch the interview.
Tax Filing Season
When asked about early reports regarding tax refunds at the start of the tax filing season, Rep. Brady emphasized (starts at 10:57):
"Tax refunds, the amount of that, simply means how much you didn't have in your paycheck last year.  If you are living paycheck-to-paycheck like most families, you want that tax relief every month, you don't want it a year later – which is what refunds represent."
POTUS and Gov. Cuomo Upcoming Meeting
Regarding reports that President Trump and Governor Andrew Cuomo (D-NY) are set to meet to discuss the limit placed on the state and local tax deduction (SALT) as part of the 2017 tax law, Rep. Brady told Maria (starts at 3:55):
"New York state is a fantastic state.  So are other high-tax states – like California.  But they brutally tax their families and their local businesses.  Even though their economies are booming because of those tax cuts, the fact of the matter is they tax their families so high that people are leaving."
Rep. Brady added that repealing the $10,000 cap on the SALT deduction would result in a tax cut that overwhelming benefits the top 1 percent:
"Repealing the SALT deduction does two things.  One, it rewards mainly wealthy homeowners and earners in those states.  And secondly, it encourages Governor Cuomo to raise taxes even higher – exactly the opposite of what most families and businesses in New York want to see."
The tax writer added that he does not expect Congress to repeal the SALT cap this year:
"Congress, in my view, is not going to raise this.  Because I looked at the numbers: raising the SALT deduction is a $10 a year tax cut for the middle class; a $140,000 a year tax cut for the wealthy. That just isn't what Congress is going to focus on."
Working With Democrats
Maria asked Rep. Brady his thoughts on ideas being floated around by Democrats involving massive tax hikes on taxpayers.  Rep. Brady dismissed the idea of implementing taxes as high 70 percent on workers and families (starts at 6:10):
"The fact of the matter is we need families to keep more of what they earn, we need local businesses to invest more in their workers and in their businesses."
Calling for bipartisanship, Rep. Brady said he is hopeful legislation can be passed this Congress that will help families save more and earlier throughout their lives: 
"We are going to work with our Democrat colleagues on issues like retirement savings, we think there's some common ground we can find there that actually helps a lot of families."
U.S.-China Trade Talks
On the status of the trade talks between the United States and the Chinese, Rep. Brady stressed two things.
The first, he said that President Trump has been right to go after China's unfair practices (starts at 8:30):
"China has been cheating for far too long.  They are an important ally, no doubt about that; and an important economic partner, no question about that.  But too much of their economy and their models are based upon cheating.
"President Trump has called their hand on it, as every President wishes they would have.  And the challenge is, of course, getting China to change their misbehavior – that's not easily done."
Second, the Texas lawmaker said he is hopeful discussions between the two nation's continue to progress in the coming weeks:
"I think these talks are constructive.  It seems to me like they've broadened the discussions to a whole range of structural issues – that hasn't happened in a decade or more.  The talks are, I think, making progress in the scope of what they're discussing.
"We don't have an outcome yet, I don't expect it to be overnight.  But I do know this: President Trump is engaged with President Xi, and whether they meet or not here in the next few weeks, I think the conversations between those two leaders are occurring and are critically important."
Continuing to Grow Our Economy 
Reports this week show the U.S. has a record number of job openings – 7.3 million.  And recent polls by Gallup say that individuals haven't been this optimistic about their personal financial situation in 16 years, as wages and benefits for workers clocked in at an 11-year high earlier this month.
To build on these important economic successes, Rep. Brady said lawmakers need to focus on expanding America's consumer base, while also strengthening and growing our workforce (starts at 9:42):
"The new tax code has greatly strengthened this economy far beyond what was predicted before the tax reforms occurred.  But I think the only things holding America back are: one, we need more workers; and we need more customers.
"That means more trade – whether it's Mexico and Canada, Europe and Japan, China.  And the President, by the way, his trade agenda is focused on two-thirds of the potential export sales for America.  So he's tackling the biggest potential customers we need.
"But secondly, the workforce … is the number one challenge back home.  Businesses of every size and in every corner of the country are starved for more workers and it is holding our economy back.  So I think if Congress can address those two issues, you will see more growth in the future."