Brady: Tax Hikes on Small Businesses End Up in Higher Prices for Americans
Ahead of the latest inflation report showing that prices surged by 8.5 percent, Republican Leader on the Ways and Means Committee Rep. Kevin Brady (R-TX) examined the key ways Democrats worsened inflation, and how higher prices land on American families and small businesses on CNBC's Squawk Box.
READ: Brady: With Inflation Raging and Getting Worse, When Will President Biden Admit We Are In a Dangerous Wage-Price Spiral?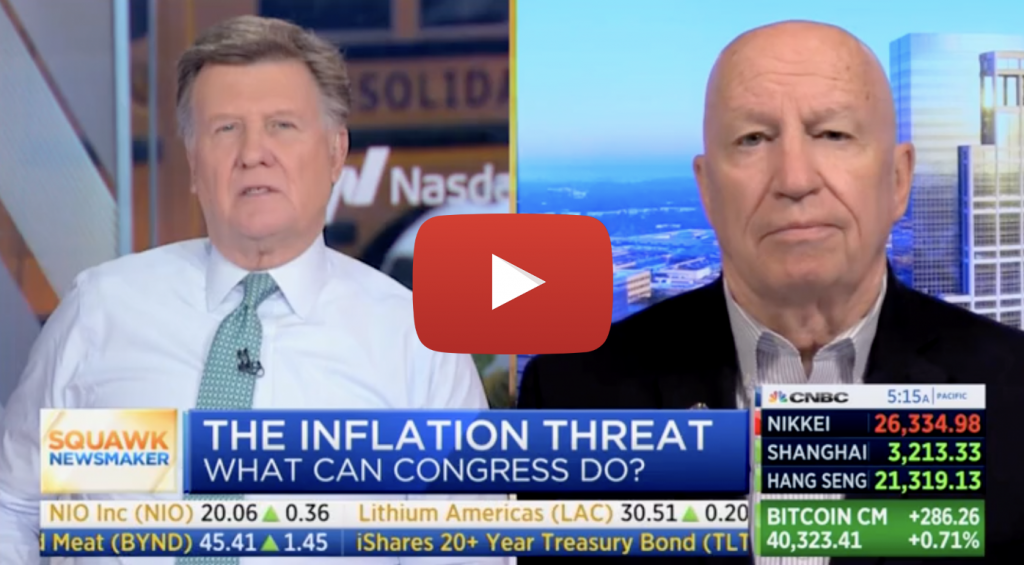 CLICK HERE to watch the full interview.
Rep. Brady outlined how President Biden's policies accelerated inflation to reach 40-year highs:
"There was a hangover from some of the COVID-era programs that had very lavish unemployment benefits, very lavish health care benefits, and a child tax credit no longer tied to work. That exacerbated the worker shortage, which, again, made inflation and prices harder and higher for longer.

"I think those were the key elements – the spending, the timing and benefits that extended way beyond where the recovery demanded it."
Rep. Brady warned that American families and small businesses are worried about inflation, the threat of Democrats' crippling tax hikes, and the worker shortage:
"These looming tax hikes – they're still out there in the Senate. That's creating real problems as well. What I hear from our local businesses, the worker shortage is still high, and inflation, as you noted, has become the biggest concern. In my town hall meetings yesterday, small businesses are asking about potential tax hikes. In this economy that ends up in higher prices as well. That's a worry."
Asked what can be done to curb inflation, Rep. Brady said:
"I would start with a declaration that we're going to end-all covid era programs that are driving up inflation in any meaningful way. 
"Secondly, we are making a real focus on reconnecting workers back to their jobs, something we just haven't seen. 
"Thirdly, President Biden should declare no tax hikes that drive up prices further or discourage investment in the U.S. Obviously, look, gas prices will cost an average family about $2,000 more this year. Rather than use gimmicks, the President  ought to be talking about how do we gear up more production here in the U.S. It doesn't happen overnight but the signals of it drive investment quickly."