Brady: The Biden White House is a Disinformation Machine on the Economy
President Biden is in denial about his recession, Biden-Flation, border crisis, and more
President Biden is in denial about his cruel economy, border crisis, and Biden-Flation, Ways and Means Republican Leader Rep. Kevin Brady (R-TX) said in a conversation with Larry Kudlow. Joining "Kudlow" on Fox Business live from New York City, Rep. Brady said the American people are desperate for relief, but President Biden can't course correct when he's not being honest about the cruel economy he created.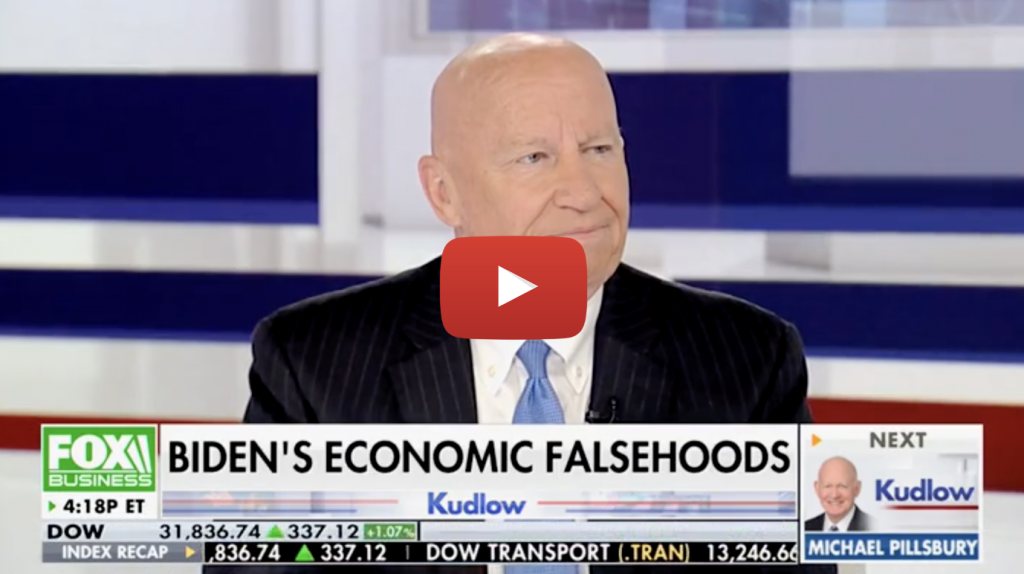 CLICK HERE to watch.
President Biden is living in denial of the cruel economy he created.
"You will not course correct if you're not honest with the American people. 
"The truth is, this White House and the President is a bit of a disinformation machine. Whether it's, 'the economy is strong,' 'the border is secure,' 'inflation is transitory,' 'Republicans will end Social Security and Medicare,' he has been fact checked as false on all of this. 
"The American people know it's not true. We're living in a very cruel economy right now. Workers have taken the largest pay cut in 25 years – almost a month of their wages have been lost under Joe Biden. They're skipping meals. They're digging into savings. They're doing extra work. They're delaying retirement. They can't afford a house. So when he tells them this economy is strong, they just know it's dead wrong."
READ: Fact Check: Biden Has Crashed the Economy and Wants to Blame Republicans
Republicans' Commitment to America means a stronger economy.
"Here is what I can tell you, we're going to do the opposite of this President. Less government spending. Less taxes and regulations to fuel inflation. More American-Made energy, more workers reconnected, and more innovation that lower inflation."
Democrats' "War on Energy" has left American consumers vulnerable to skyrocketing energy prices.
"Permits and leases are seed corn. Those are the investments you make now for five and 10 years down the road that keep us productive, with abundant resources and affordable resources. 
"President Biden is really mortgaging the future, but what we're seeing is the curtain has been pulled back on the Green New Deal. People now know what it means. Higher prices, energy poverty and real challenges for them."
READ: SURVEY: Over Half of Americans Are Behind on Retirement Savings Due to Biden-Flation
Republicans are committed to making TCJA permanent for a stronger economy.
"In the Tax Cuts and Jobs Act, we lifted 6 million Americans out of poverty almost overnight. For the first time in half a century, income inequality began to shrink. I think without COVID, President Trump may have been the only President to shrink income inequality. We saw people left behind in the old tax code suddenly have good jobs and rising wages – which by the way, those paychecks were going up twice as fast as inflation. Every month they were getting ahead, not every month falling further and further behind. 
"We changed the trajectory of the U.S. economy, which made it possible to recover so quickly from COVID, and this was a recovery that should have been a banner approach for America. President Biden wrecked that momentum, that growth, all of that. We're in a terrible position right now because of his lack of leadership."
READ: Five Years Later: Republicans Delivered Historic, Pro-American Tax Reform