Brady Welcomes Prime Minister of Canada to Bipartisan Ways and Means Meeting
"This is a great moment for our Committee and an exciting opportunity for North America."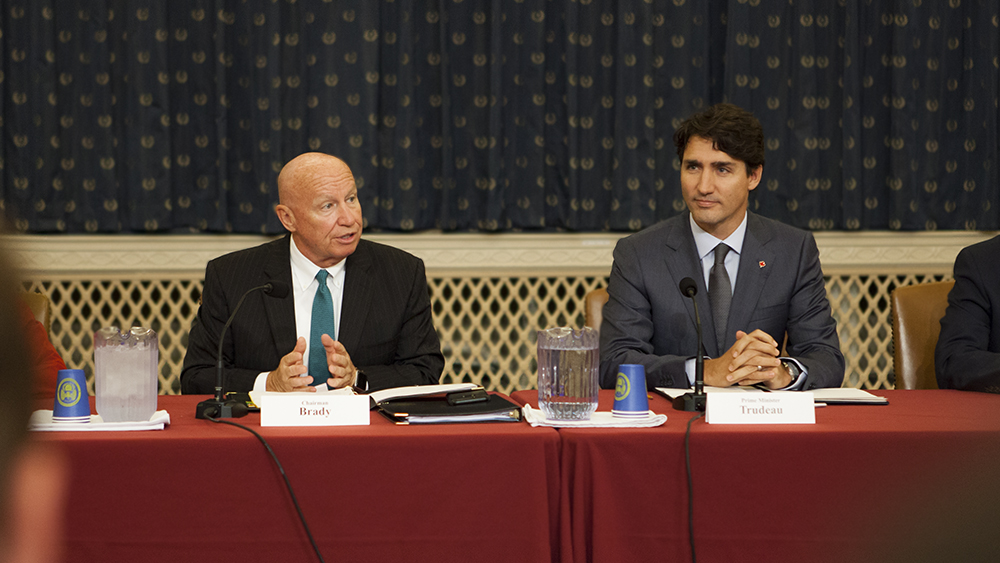 WASHINGTON, D.C. – The Ways and Means Committee today hosted the Prime Minister of Canada, Justin Trudeau, for a discussion on the U.S.-Canada bilateral trade relationship and the ongoing NAFTA negotiations. Ways and Means Committee Chairman Kevin Brady (R-TX) delivered the following remarks at the start of the meeting:
"Today, I'm honored to welcome the Prime Minister of Canada, Justin Trudeau. On behalf of the Ways and Means Committee, thank you, Mr. Prime Minister, for meeting with us to discuss NAFTA and our bilateral trading relationship more broadly.  
"America and Canada are great allies who share the world's largest international border and a remarkably successful – and mutually beneficial – trading relationship through NAFTA. But no relationship is without its challenges. We look forward to discussing today how we can eliminate existing barriers to U.S. exports. 
"At the same time, we want to make it easier for North American businesses, manufacturers, farmers, and ranchers to compete as a North American trading bloc. Because, when North America wins, America wins – and the American people win as well.
"Over the past few months, our negotiators have worked at an unprecedented pace to bring NAFTA into the 21st century – to more effectively address issues related to the digital economy and strengthen trade rules to enhance our competitiveness globally.
"Our Committee, which you are visiting today, has constitutional responsibility for trade and is dedicated to ensuring that these negotiations are successful. To do that, we need to make progress on issues such as customs barriers at the border, intellectual property protection, and greater market access for U.S. dairy producers. I would ask for the Prime Minister's help and open mind achieving a meaningful outcome on these issues 
"We all want this agreement to be a model for future agreements. That means it must have ambitious rules that are enforceable through strong institutional structures that hold us all accountable. We have to provide certainty for trade and investment to succeed, create jobs, and grow our economy. 
"Mr. Prime Minister, thank you again for being here. This is a great moment for our Committee and an exciting opportunity for North America.  We look forward to discussing these issues with you and Minister Freeland."