Brady: Working Families Will Shoulder Burden of Biden's Multi-Trillion Dollar Tax-and-Spend Agenda
WASHINGTON, D.C. – Top Republican on the House Ways and Means Committee Rep. Kevin Brady (R-TX) today joined Stephanie Ruhle on MSNBC to warn against President Biden's multi-trillion dollar expansion of the welfare state and crippling tax hikes on working families and small businesses.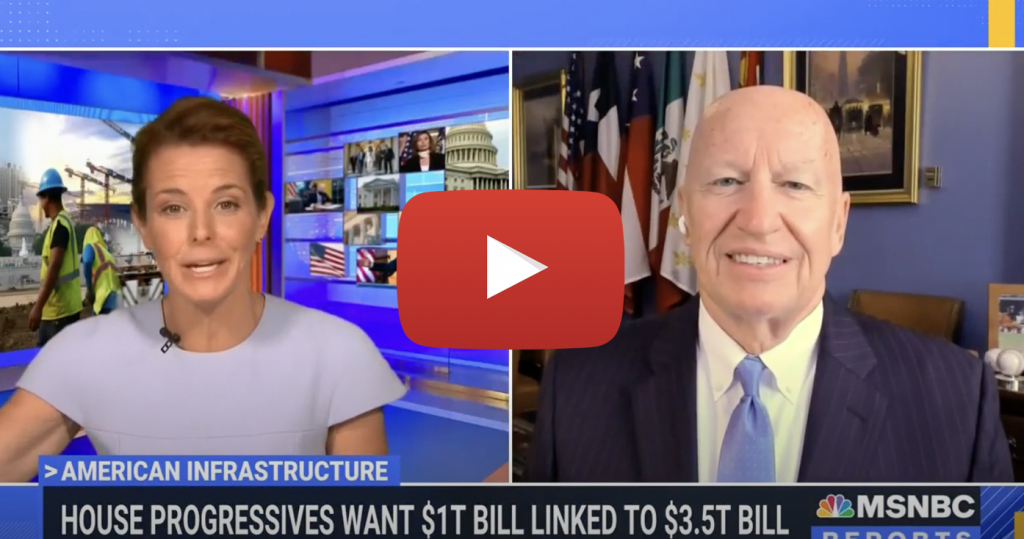 CLICK HERE to watch the full interview.
KEY QUOTE:
Rep. Brady said:
"Our biggest concern as Republicans is what we saw yesterday. The second straight quarterly GDP numbers fell below expectations.

 

"Job growth is slowing, economic growth is downhill from here, wages are up, and our big worry going forward is that President Biden is off track on these policies and a lot of working families are being hurt by it."

 
KEY TAKEAWAYS:
President Biden Needs a Blockbuster July Jobs Report.
Even with every advantage, including life-saving vaccines, a reopening economy, and government stimulus, President Biden fell nearly 700,000 jobs short of his jobs promise for the second quarter.
The American people are right to wonder: why should they have to foot the bill of yet another reckless spending spree that won't live up to Democrats' jobs promises?
READ: Biden's 'Jobs Plan' Costs Taxpayers $2.3 Million Per Job Over Next Decade
Democrats Say Inflation Doesn't Matter, as American Families Suffer.
Prices are skyrocketing while paychecks are shrinking. President Biden is cooling off our jobs recovery and slowing economic growth.
Inflation surged past the Congressional Budget Office's (CBO) forecasts, and many economists now expect higher inflation to stick around.
READ: At 6 Months, Biden Fails His Economic Report Card
Biden's Tax Grab Targets Small Businesses, Hurts Middle Class Families.
We cannot fund infrastructure on the backs of America's workers, middle class families, and small businesses. Even liberals find that President Biden's tax hiles will hit the middle class and a new study estimates 1.4 million small businesses will be negatively impacted by Biden's tax hikes.
The Tax Policy Center found that Biden's overall tax plan will raise taxes on 75 percent of middle-class families next year, rising to 95 percent of middle-class families by 2031.