Chairman Johnson, American Hero, Gavels Final Hearing as Subcommittee Chair
Rep. Sam Johnson (R-TX), the longtime Chairman of the Ways and Means Subcommittee on Social Security who is retiring at the end of the 115th Congress, today chaired his last Subcommittee hearing.
Chairman Johnson gaveled in the hearing in Rayburn 2020, a hearing room that in 2016 was renamed by the House of Representatives as the "Sam Johnson Room", in an event attended by Speaker Paul Ryan (R-WI), Democratic Leader Nancy Pelosi (D-CA), and Ways and Means Committee Chairman Kevin Brady (R-TX).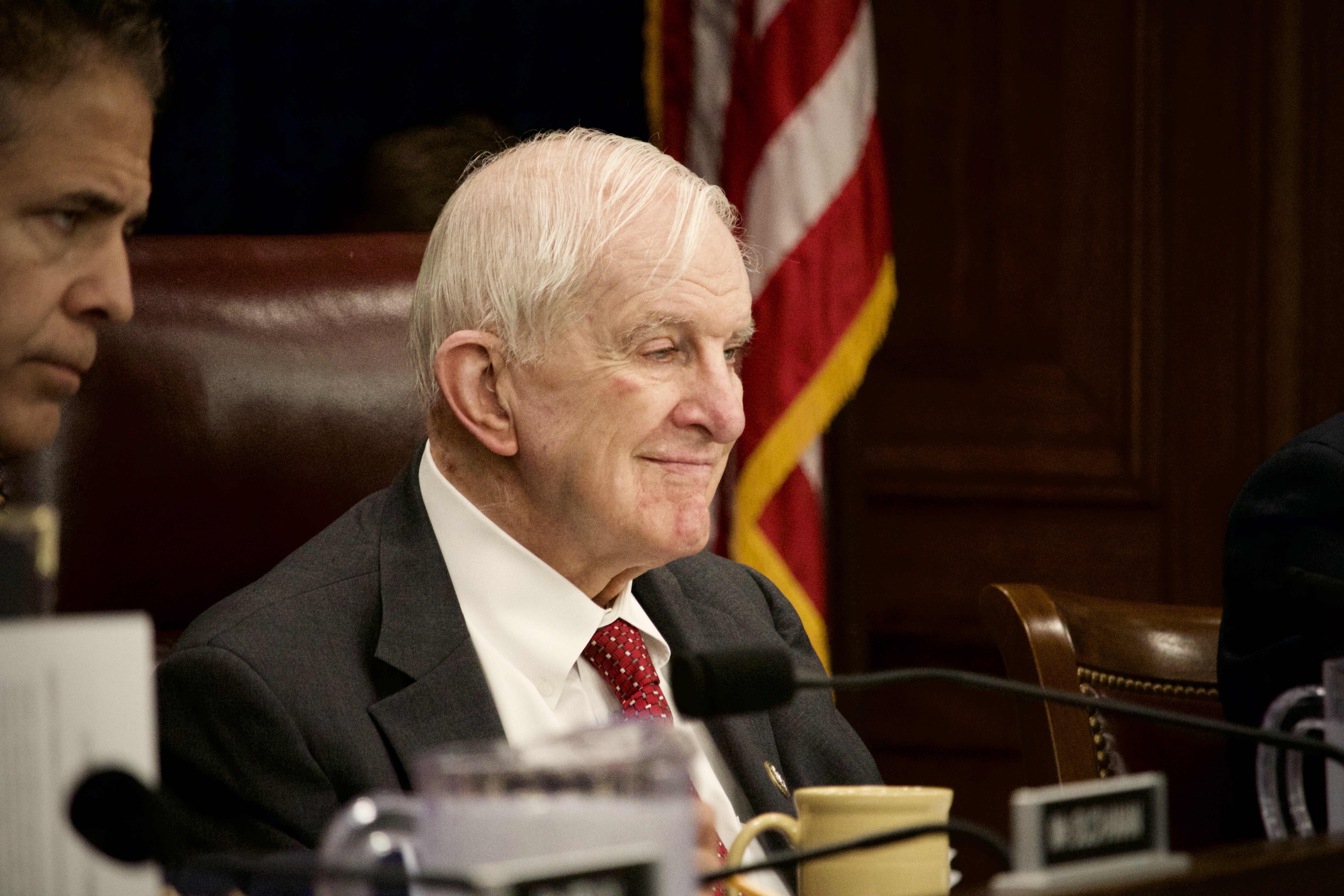 At the start of today's hearing, Chairman Johnson reflected on his time as Chairman:
"As Chairman, I've focused on many challenges facing Social Security, including the need to: modernize the disability program; combat fraud; protect Americans from identity theft; and make sure our children and grandchildren can count on Social Security, just like seniors and individuals with disabilities do today."
Chairman Johnson thanked the dedicated staff of the Subcommittee who have worked hard to solidify his legacy as a champion for Social Security. He also thanked  Social Security Subcommittee Ranking Member John Larson (D-CT), to whom he gave a signed copy of the Strengthening Protections for Social Security Beneficiaries Act of 2018, a bipartisan law the two sponsored that will better protect Social Security beneficiaries who are unable to manage their own benefits.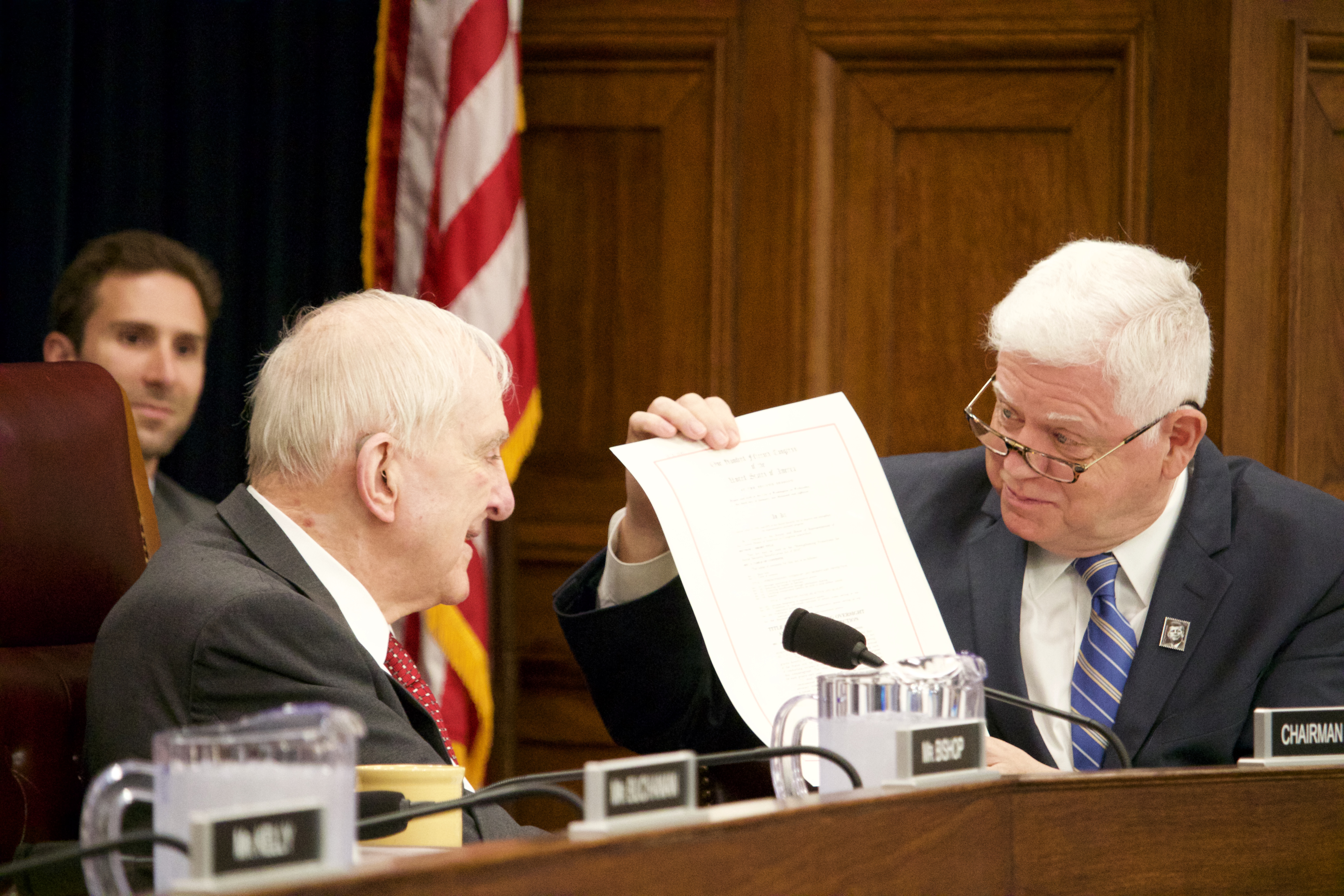 Chairman Johnson said:
"I'm proud to say that one of this Subcommittee's recent successes is the bipartisan representative payee bill that became law earlier this year.
"John, we did this together and I want to give you a copy of the bill.  You have been a good friend and it's been a pleasure to lead this Subcommittee with you.  God bless you, partner."
Ranking Member Larson expressed his gratitude to Chairman Johnson:
"Mr. Chairman, I want to say how proud I am of our work together to pass bipartisan and much-needed legislation to strengthen and improve the representative payee program for our most vulnerable beneficiaries – including children, people with disabilities, and seniors suffering from dementia.
"Chairman Johnson has always been an honest broker who has placed the interests of the nation above all else. So, it is a fitting recognition that this room is named in honor of Chairman Johnson. I again recognize your distinguished service to the state of Texas, the United States Congress, and the country as a true American hero."
House Ways and Means Committee Chairman Kevin Brady (R-TX) echoed this sentiment, tweeting: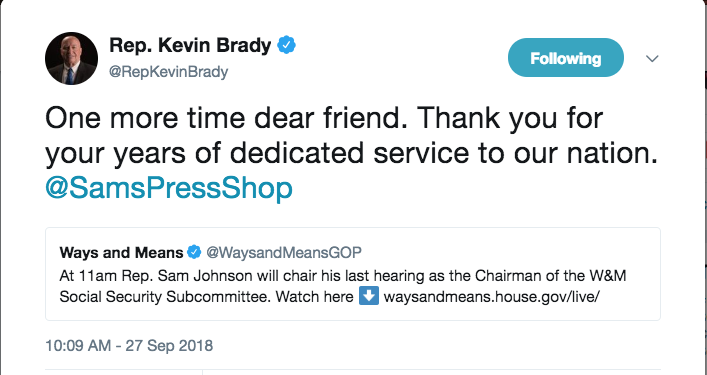 Background: Sam Johnson, a native Texan, was first elected to the House of Representatives in 1991. Representing North Texas in the 3rd congressional district, Johnson was recommended by then-Ways and Means Committee Chairman Bill Archer (R-TX) to serve on the Ways and Means Committee in 1995.  Johnson became Chairman of the Subcommittee on Social Security in 2011.  Throughout his tenure as Chairman, Johnson has led the charge on multiple pieces of legislation that strengthened the integrity of the Social Security program to better serve beneficiaries.
Outside of his service to the Ways and Means Committee, Johnson was recognized in 2009 as the "most admired" Republican Member of the House by his peers. That same year, Johnson received the National Patriot Award, the highest civilian accolade granted by the prestigious Congressional Medal of Honor Society.
Prior to his tenure in the House, Johnson had a distinguished career in the United States Air Force. During his nearly 30 years in the military, Johnson served as the director of the Air Force Fighter Weapons School ("Top Gun"), flew combat missions in both the Korean and Vietnam Wars, and was a member of the world-renowned Air Force Thunderbirds.
In the Vietnam War, during the 25th combat mission of his second tour in 1966, Johnson was shot down and captured. He endured nearly seven years as a prisoner of war in the infamous Hanoi Hilton, including 42 months in solitary confinement.
A decorated combat veteran and war hero, Johnson was awarded two Silver Stars, two Legions of Merit, the Distinguished Flying Cross, one Bronze Star with Valor, two Purple Hearts, four Air Medals, and three Outstanding Unit Awards.
Sam Johnson was married for 65 years to the late Shirley L. Melton of Dallas, his high school sweetheart.  He is the proud parent of three children and ten grandchildren.
The Ways and Means Committee is forever grateful to Sam Johnson for his patriotism, leadership, and decades of service to the people's House.