Children's Organizations and Advocates Mourn the Loss of Rep. Jackie Walorski and Her Deep Commitment to Helping Vulnerable Children and Families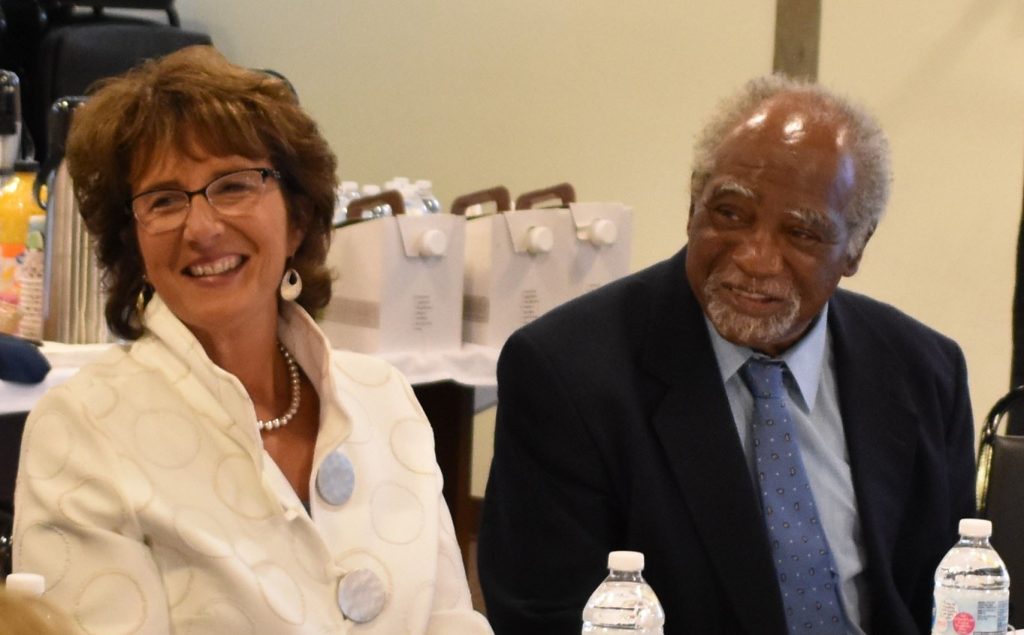 Congresswoman Walorski (D-IN-02) with her colleague Congressman Danny Davis (D-IL-07) at a child and family welfare roundtable held at Oaklawn Psychiatric Center in Indiana in 2019. Picture courtesy of Chris Daley, Executive Director of the Indiana Association of Resources and Child Advocacy (lARCA).
As Republican leader of the Worker and Family Support Subcommittee, Rep. Jackie Walorski (R-IN), was a devoted champion to strengthen programs for foster youth and children involved in the child welfare system, providing support to low-income families, and expanding access to paid family leave and child care. 
Rep. Walorski worked on many collaborative projects with Worker and Family Support Subcommittee Chairman, Rep. Danny Davis (D-IL), and made it a priority to work on a bipartisan basis. In the midst of the COVID pandemic in December 2020, Rep. Walorski cosponsored bipartisan legislation with Chairman Davis, the Supporting Foster Youth & Families through the Pandemic Act (H.R. 7947), which passed into law and provided emergency supports and flexibilities for older foster youth, grandparents raising grandchildren and other kinship families, home visiting for at-risk pregnant and parenting families, and foster care prevention services.
Most recently, she was deeply committed to working on a bipartisan reauthorization of the Maternal, Infant, Early Childhood Home Visiting (MIECHV) to improve maternal and child health outcomes for pregnant women and children with young parents.
Republican Leader Rep. Kevin McCarthy (R-CA)
"This news is absolutely devastating. Jackie was a dear friend, trusted advisor, and the embodiment of integrity who achieved the admiration and respect of all her colleagues in the House. She was passionate about empowering children and families in Indiana and around the world to thrive. Her experience running a foundation in Romania that provided food and medical supplies to needy children clearly informed her time in Congress. Whether she was fighting for justice for fentanyl victims or advocating for educational choice for children, she always put others first."
U.S. Senate Republican Leader Mitch McConnell
"Yesterday, Congress was shaken by news that a tragic automobile accident had killed Congresswoman Jackie Walorski and three others, including Emma Thomson and Zachery Potts, members of her staff… Today, we trust that this faith has reunited our colleague with her eternal Father. And we pray that He will comfort Dean, all her family and friends, and those who mourn Zach and Emma, in these terrible days."
House Republican Whip Steve Scalise (R-LA)
"I am devastated and saddened to learn about the tragic passing of my dear friend Jackie Walorksi and two of her staffers.
"Jackie was an instrumental member of our conference, serving as a member of my deputy whip team for several years. She was a champion for the people of Indiana, and she will be remembered for her kindness, tenacity, and commitment to helping others"
U.S. Health Resources and Services Administration (HRSA)
"HRSA honors Rep Walorski's work to support children and families through the Maternal, Infant and Early Childhood Home Visiting Program and sends condolences to her family and the families of Emma Thomson and Zachery Potts."
Former First Lady Melania Trump
"It is heartbreaking to hear about the tragic loss of Congresswoman Jackie Walorski. She was a wonderful advocate for children. I had the privilege of working with her to help our Nation's youth, specifically our foster children. She had a servant's heart, and it was her mission to advocate for and help others. She will be deeply missed."
"Today the child welfare community lost a champion & reformer. As Ranking Member of the House Committee on Ways & Means Subcommittee on Worker & Family Support, Congresswoman Jackie Walorski was a powerful champion for the children, youth, & families involved with the CW system."
Association of Children's and Residential Services
"The Association of Children's Residential and Community Services (ACRC) joins the community of advocates for child and family well-being in mourning the losses of Representative Jackie Walorski, her District Director Zach Potts, and her Communications Director Emma Thomson. Representative Walorski and her staff always made the time to listen to those most impacted by systems, to support the work of community-based organizations, and to prioritize policymaking that would empower children and families to thrive. This is a terrible loss for Indiana and the nation."
National Foster Youth Institute
"We are so sorry to hear about the passing of @RepWalorski. We have lost a true champion for children. Congresswoman Walorski listened to foster youth voices and created legislation that improved the lives of foster youth across the country. We will miss working with her."
"We are saddened to learn of the passing of Congresswoman Jackie Walorski and two staff members today. Congresswoman Walorski has been a long-standing champion for children and families. Our thoughts are with everyone affected by this devastating accident."
"The PCA America and Healthy Families America team is deeply saddened to hear of the passing of Representative Jackie Walorski and two aides, Zach Potts and Emma Thomson. Rep. Walorski was a long-time champion for children and families and home visiting. Our condolences go out to their families, friends and colleagues."
"We are deeply saddened to learn of the death of Rep. Jackie Walorski and two members of her staff. Rep. Walorski was a champion for kids. We thank her for her work to address child hunger around the world and her support for home visiting programs. She will be greatly missed."
"@gensunited mourns the loss of @RepWalorski & her staffers, #ZacharyPotts & #EmmaThomson. We praise her tireless #kinship advocacy & entering our State of #Grandfamilies report into the Congressional record. May their memories forever be a blessing."
"March of Dimes is saddened by the tragic passing of Rep. Jackie Walorski, and two of her aides. The Congresswoman was an advocate  for maternal and infant health policies, and our thoughts are with her and the other victims' families during this difficult time."
"Foster Success joins our nation in mourning the loss of Congresswoman Jackie Walorski. We are grateful for her leadership in supporting children, youth, and families involved with the child welfare system across our country including her work over the past two years to support."
"@NatlPAT is truly saddened to learn of the passing of Rep. Jackie Walorski and her two aides, Zachary Potts and Emma Thompson. Rep. Walorski was a true champion for home visiting.  Thoughts are with the families of Rep. Walorski, Zachary Potts, Emma Thompson, and all her staff."
RELATED: 
Jackie Walorski and Melania Trump Op-Ed: A Stronger Foster Care System Is a Stronger America
Walorski, Brady Announce Child Care And Paid Leave Package for Working Families
Walorski Leads Hearing on Evidence-Based Home Visiting Program
Walorski, Davis Applaud Inclusion of Foster Youth Support in Covid-19 Relief Bill