Committee Continues Efforts to Prevent Opioid Epidemic from Harming More Americans
This week, the Health Subcommittee, chaired by Rep. Peter Roskam (R-IL), held the Ways and Means Committee's second hearing on the opioid crisis this year – specifically looking at ways to protect Americans who rely on Medicare from opioid abuse, addiction, and overdoses. Recognizing the role that states have to play in combating the opioid epidemic, Members had the opportunity to hear directly from Governor Phil Scott (R-VT), who has been a leader in working with local and federal partners to decrease the devastating impact that opioids have played in communities across Vermont.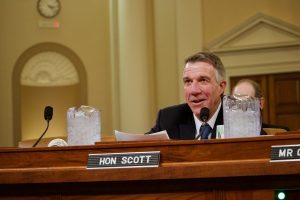 As Health Subcommittee Chairman Roskam said at the start of the hearing:
"Nationally, more than 42,000 Americans died from opioid-related drug overdoses in 2016, according to the Centers for Disease Control. That is over 115 people per day, and equivalent to over 14 people that would have lost their lives over the course of this hearing today. That is both horrible and distressing, and while we have taken steps to reduce opioid abuse, such as passage of the Comprehensive Addiction and Recovery Act (CARA) last year, we have only begun to scratch the surface. With 10,000 baby boomers joining Medicare each day, we must harness innovation, technology and data to get ahead of this problem."
Governor Scott discussed with the Subcommittee the progress that has been made in Vermont in recent years regarding opioid abuse. The Governor talked about establishing the "Opioid Coordination Council" early in his Administration to specifically focus on prevention, recovery, treatment, and enforcement in the state's efforts to combat opioid abuse.
During the hearing, Governor Scott called for enhanced partnerships between states and the federal government and offered proposals that lawmakers should consider when tackling the opioid crisis across the country:
"Medicare needs to treat addiction as the chronic health condition that it is. … Working with our federal partners, we hope to develop a path to make this a reality. 
"…our small state could benefit from nationally-supported research in the areas of alternative treatments for pain and from expanded coverage options for alternatives to opioids to manage chronic pain. Such approaches can help prevent unnecessary and prolonged exposure to opioids and help reduce the rates of addiction."
The Subcommittee also heard from a number of health care professionals about successful public-private partnerships in the Medicare program, as well as steps Congress can take to protect Medicare beneficiaries who are most at risk of opioid abuse and addiction. Dr. Ramsin Benyamin, President and Founder of the Millennium Pain Center in Bloomington, IL, emphasized that a lot of work to combat the opioid crisis can start before these dangerous medicines are ever prescribed to patients. Dr. Benyamin proposed a series of steps that included increasing education on opioids and expanding alternative methods of treatment to curb opioid abuse and reduce opioid deaths:
"An aggressive public education campaign with explicit teaching on the dangers of illicit drugs, specifically heroin and fentanyl; a public education campaign relating to the adverse consequences of prescription opioid abuse particularly in combination with benzodiazepines; mandatory four hours of education for all prescribers of any amount of opioids or benzodiazepines; …improved access to nonopioid techniques including physical therapy and interventional techniques by lowering or eliminating copayments; expanded low-threshold access to buprenorphine for opioid use disorder treatment; enhanced prescription drug monitoring program… and remove methadone from formulary, despite being only 1% of the prescriptions of opioids, it results in more than 3,000 deaths every year."  
Chairman Roskam asked the witnesses to identify the most important thing the Subcommittee should do to tackle the opioid epidemic. They responded:
Dr. Benyamin:
"Cut the supply of heroin and synthetic fentanyl. That's like a weapon of mass destruction affecting our communities." 
Dr. Jason Kletter, President of Baymark Health Services in California:
"Increased access to evidence-based research services." 
Dr. Harold Paz, Chief Medical Officer of Aetna:
"Ensure education around use of non-opioid pain treatments."
Ms. Laura Hungiville, Chief Pharmacy Officer of WellCare Health Plans in Tampa, FL:
"Limiting dosages of opioids for acute conditions."
Following discussion with Governor Scott, Chairman Roskam reiterated how important it is for Congress to address and solve this epidemic:
"This is an area that is very dear to all of us – and I mean literally all of us. And it is an area where I think good work can be done. And I think people of goodwill and tenacity and willing to give others the benefit of the doubt as we move forward can be really, really significant."
The Ways and Means Committee will continue its work to prevent the opioid crisis from harming more lives and communities across the country.
CLICK HERE to learn more about the hearing.
CLICK HERE to learn more about work being done by the Committee regarding the opioid crisis.