GET THE FACTS: What you need to know about the Phase 1 Trade Agreement with China
The President today is signing a Phase 1 Trade Agreement with China.
As Ways and Means Republican Leader Rep. Kevin Brady (R-TX) said on Fox Business this morning: "This is a big deal. "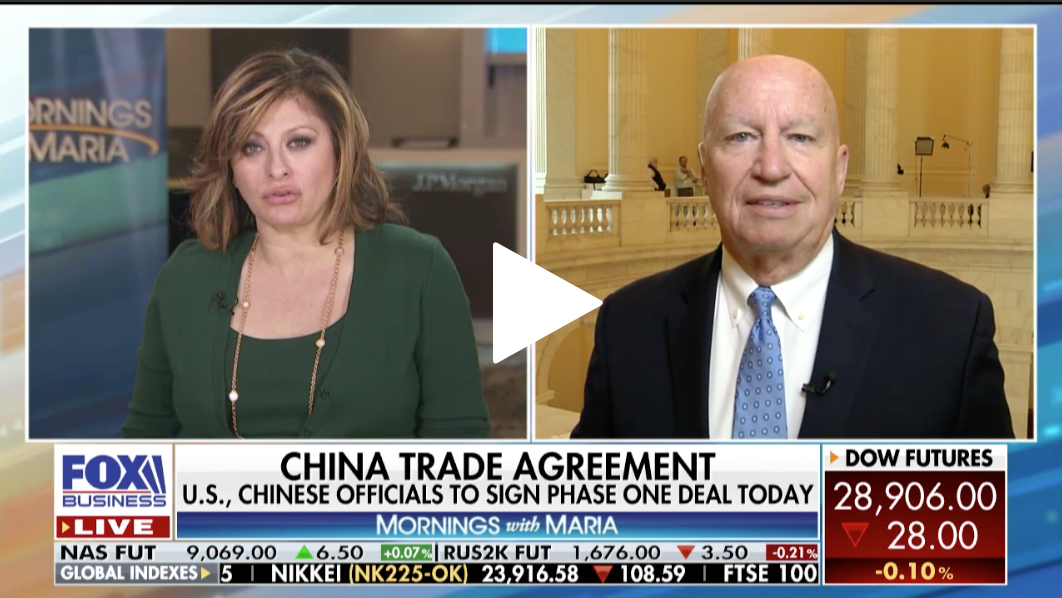 In this historic achievement, the President and his team accomplished a goal no one else has been able to do:  hold China accountable for its abusive and unfair behavior that has hurt American workers and our local businesses.
The United States Trade Representative's office created this helpful fact sheet, laying out what is in this historic agreement. Here is what you need to know:
The deal puts U.S. workers first. For years, China's economic model has depended on cheating and stealing. This phase one agreement puts a halt to that, requiring China to make structural reforms to its system to stop theft of intellectual property and forced technology transfer. The cost of doing business in China shouldn't be getting put out of business by China.
It paves the way for more global sales of "Made in America" goods and services. In this deal, China made commitments to purchase more American products. This is great news for manufacturers and farmers as they seek to sell more of their coveted products to the world's second largest economy.
Accountability and enforcement are front and center. China has cheated for far too long, and this phase one deal sets out to stop that. Strong mechanisms are in place for the first time to ensure China follows through on its commitments.
CLICK HERE to read the full fact sheet from USTR.
CLICK HERE to hear more from Rep. Brady about this historic agreement.
CLICK HERE to learn more about how this agreement helps American workers and businesses.