ICYMI – Market Watch: Economists say 'wow' to jobs report as wage growth picks up
Market Watch
Economists say 'wow' to jobs report as wage growth picks up
By Robert Schroeder
November 2, 2018
Economists said October's payrolls report showed all-around strength, and highlighted wages climbing 3.1% in the past 12 months as they called the data consistent with further tightening by the Federal Reserve.
• "In one line: Solid across the board, though hard to read the trends behind the weather noise." — Ian Shepherdson, chief economist, Pantheon Macroeconomics.
• Jason Furman, who ran the Council of Economic Advisers under President Barack Obama, said he didn't see anything bad in the October numbers, citing strong wage growth and a bounceback in job growth from last month.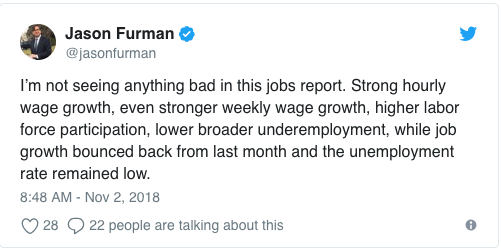 • Martha Gimbel, the research director at Indeed.com, summed up the headline number in one word: "wow."

• "Overall, a higher than expected gain in jobs and annual wage increase above 3% should be positive for the US$ and negative for fixed income." — Andrew Grantham, CIBC Economics.
• Jared Bernstein, who was former Vice President Joe Biden's economic adviser, said the data showed "pretty much everything you could want in a monthly jobs report."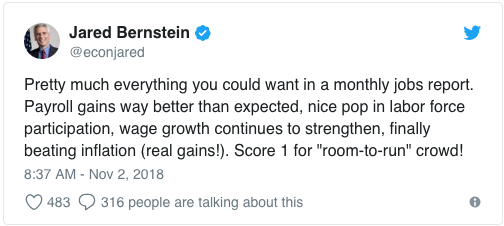 • RSM chief economist Joseph Brusuelas said the data "just about guarantees" a December interest-rate hike by the Federal Reserve.