ICYMI: New Documents Link Biden Family Influence Peddling Scheme to 23 Countries, Four Continents
Additional evidence provided by IRS whistleblowers and released by the Ways and Means Committee last week connects the Biden Family global influence peddling operation to more than twenty-three countries on four different continents. These documents detail how Hunter Biden and his associates sought business deals around the globe based on selling access to then-Vice President Biden. Thanks to the IRS whistleblowers, we now know Joe Biden was not only aware of his family's influence peddling operation, but he was also connected. In just one instance, then-Vice President Biden made an official visit to Ukraine in April 2014 only one month before Hunter Biden was appointed to the board of Burisma, a Ukrainian energy company, and after meetings with Hunter Biden's business partner with the then-Vice President and senior aides.
Chairman Smith said, "The evidence today shows the complexity and scale of the Biden Family influence peddling scheme. Millions of dollars were flowing through subsidiaries and LLCs to avoid taxes and shield visibility into how the money from foreign sources, including countries like Ukraine, Russia, and China, went to different entities and Biden family members."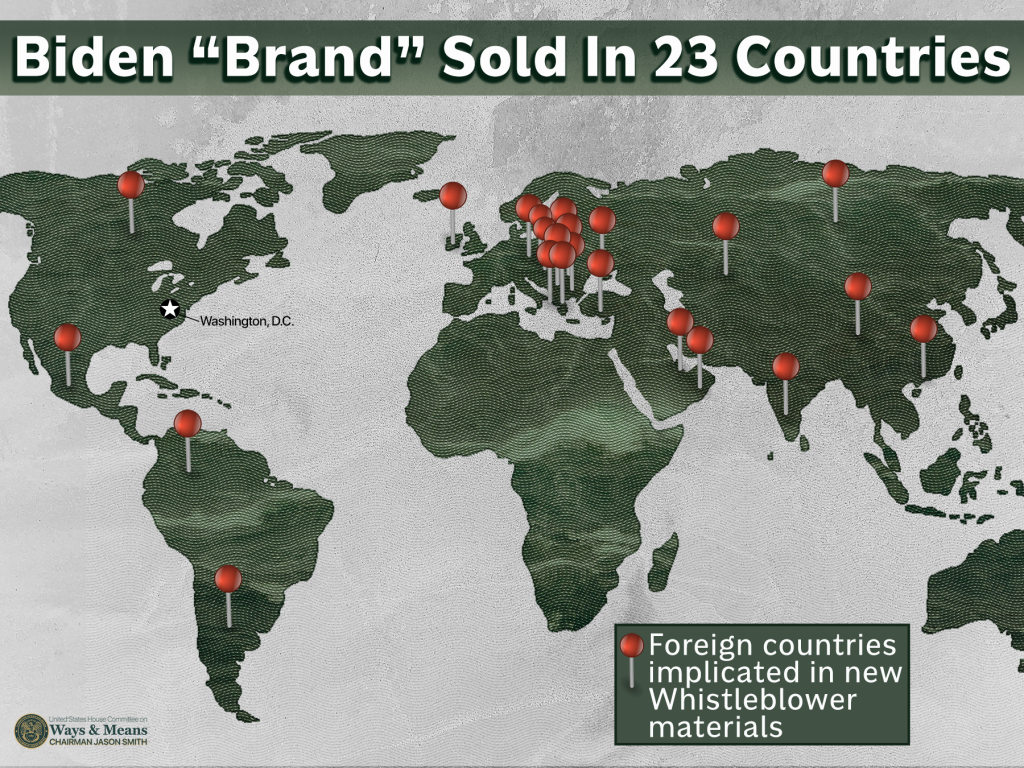 Click here for the list of countries.
The newly released information shows that in addition to China, Russia, and Ukraine, the Biden family influence peddling scheme was a vast global operation with ties to at least 23 countries, and likely more. Additionally, the documentation suggests a deliberate attempt by the Biden Family to evade taxes and shield visibility into how more than $20 million flowed from foreign sources by funneling it through more than 20 shell companies and LLCs.
READ: Whistleblower evidence