If Only the White House Had a Vaccine for Denial on Recession and Its Economic Failures
Instead of offering Americans solutions to 40-year high inflation that's crushing American families and small businesses, President Bidenis denying the looming threat of a recession, Ways and Means Republican Leader Rep. Kevin Brady (R-TX) said on "Kudlow" with Larry Kudlow and Steve Moore on Fox Business.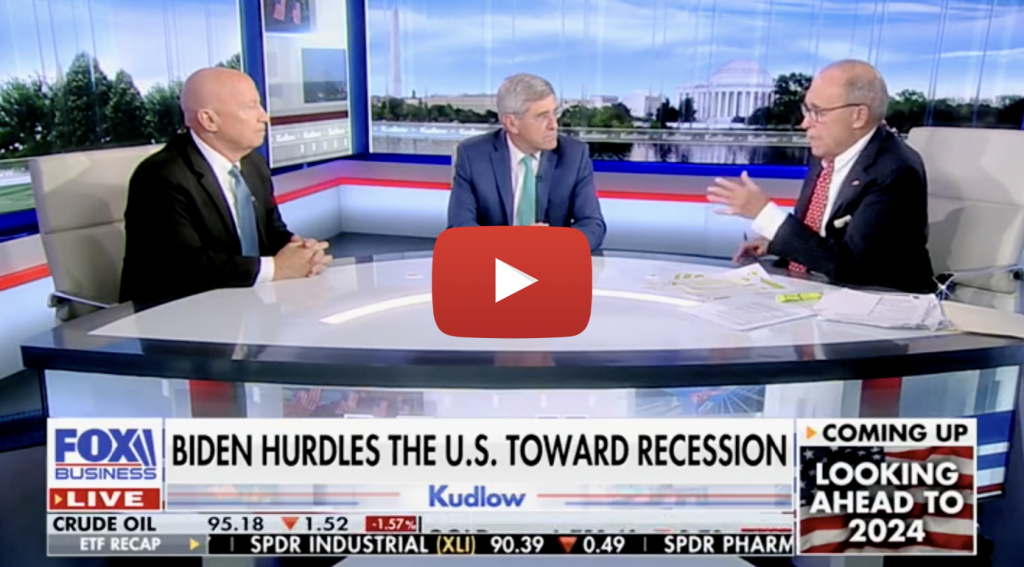 CLICK HERE to watch the full interview.
The White House's attempt to rebrand recession won't reduce Amercicans' economic suffering:
"I wish the White House had a vaccine for denial, because they have seriously been infected here. They have on inflation, on the worker shortage, and on the recession. We have a shrinking economy, shrinking paychecks, shrinking workforce, and most Americans feel like they're already in a recession. My guess is we already are. 

"But nonetheless, it's their mismanagement. They bungled this economy. I don't know a President who drove an economy faster into the ground than Joe Biden."
READ: White House Recession "Rebrand" Won't Reduce Americans' Suffering
While the Biden Administration is in denial about the economy, Republicans have a plan that would help lower inflation:
"If we want to restore a pro-growth agenda and supply side growth that can help with inflation, we need to control spending, we need to get the COVID-era spending out. Don't fuel inflation any further. 

"Secondly, we need to make those lower tax cuts, especially for families and businesses. Especially right now, as we see around the world, other countries are lowering their business rates to fight inflation. We shouldn't be raising ours. 

"Thirdly, workers. That's the capital we need. They're not back – a huge worker shortage continues that way. I don't think we get the supply chain crisis fixed, or inflation under control, without reconnecting people to work. Obviously, energy independence is key. 

"And then the cost of regulation. People forget about this, unless you're in business and you know how much more expensive it is today to operate your business. That comes through in higher prices."
The economy was growing under Republican tax reform, but Democrats' spending and tax hikes are leaving Americans and small businesses behind.
"If Washington were a manufacturing plant, we'd manufacture spending. That's what we were designed to do. So if you want to manufacture efficiency and savings, you can't use the same plan and expect different results. You really need to change the way Congress budgets. It is a horrible process."