In the Heartland, Ways and Means Committee Listens to Working Americans' Struggles in Biden Economy
YUKON, OK – Two days before President Biden releases his budget to the American people, the Ways and Means Committee held its second field hearing in Yukon, Oklahoma to hear directly from working Americans about the state of the American economy in the heartland. Working Oklahomans told the committee they want Congress to focus on lowering taxes to fight inflation, promote policies that encourage a return to work, and end unnecessary regulation and lower taxes on farmers, ranchers, and oil and gas producers. Witnesses expressed concern about many of the forthcoming policies in President Biden's budget that would hit small businesses, family farmers, and working families with higher taxes on top of the cost of goods spike that has already stolen two months of pay.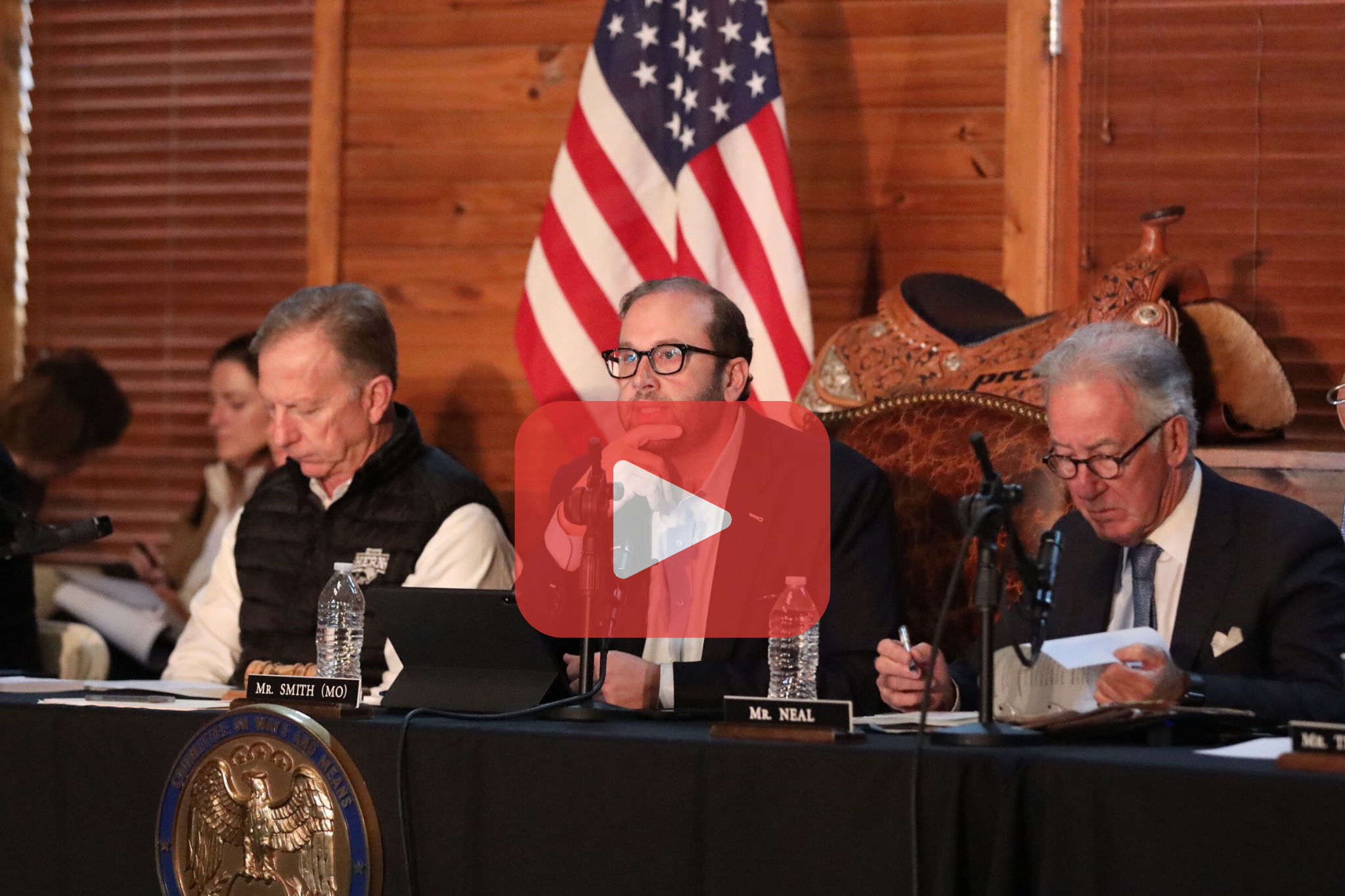 Click here to watch Chairman Smith's opening statement.
Chairman Smith laid out how family farmers, energy producers, and small businesses can all expect to be hurt by the higher spending, taxes, and regulation, on top of the inflation, supply chain, and labor shortage crisis that America's heartland is already dealing with:
"Oil, natural gas, and agriculture built Oklahoma. America's heartland is the story of the people who fuel, feed, and build our country."
"And yet, Democrats in Congress and the White House have targeted communities like this one for the heavy hand of government regulation."
"ESG standards will limit the capital needed to expand Oklahoma's oil and gas leadership and put radical climate and social policies ahead of the retirement security of working families."
"When it comes to Oklahoma manufacturing, the prices that producers pay have risen 17 percent during President Biden's Administration. Small businesses can barely make payroll and pay rent with their razor-thin margins."
"In two days, President Biden will release his latest budget. If history is our guide, America's heartland should expect a budget that continues Washington's assault on their way of life."
"Biden's last budget threatened $45 billion in new taxes on American energy producers. It spent $330 billion on policies that discourage work, worsen supply chains, and leave Main Street littered with "Help Wanted" signs. Biden's 25 percent increase for the EPA would supercharge an agency that thinks it's their business to tell farmers whether a small stream, pond, or farm dust is harming the environment."
America's heartland is filled with people who work with their hands to contribute to the economy, whether it be an oil driller, cattle rancher, or factory line worker. Chairman Smith walked through Democrat policies have negatively impacted the economy through higher inflation, worker shortages, high input prices, and farm bankruptcies: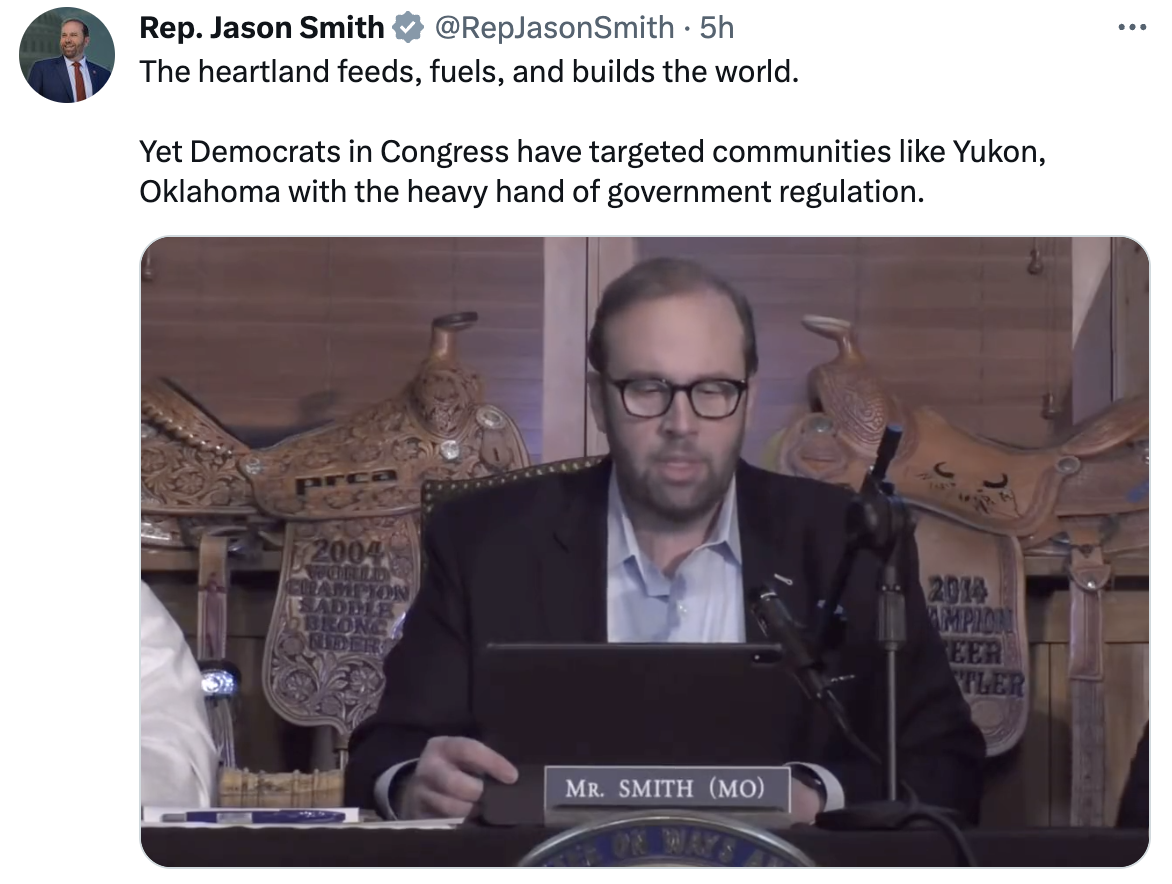 Working Americans can expect more of the same failed policies from President Biden when he releases his budget in two days. His previous budgets increased taxes on energy producers and paid people to stay out of the workforce. Chairman Smith gave a preview of America's heartland can expect from the President's next budget: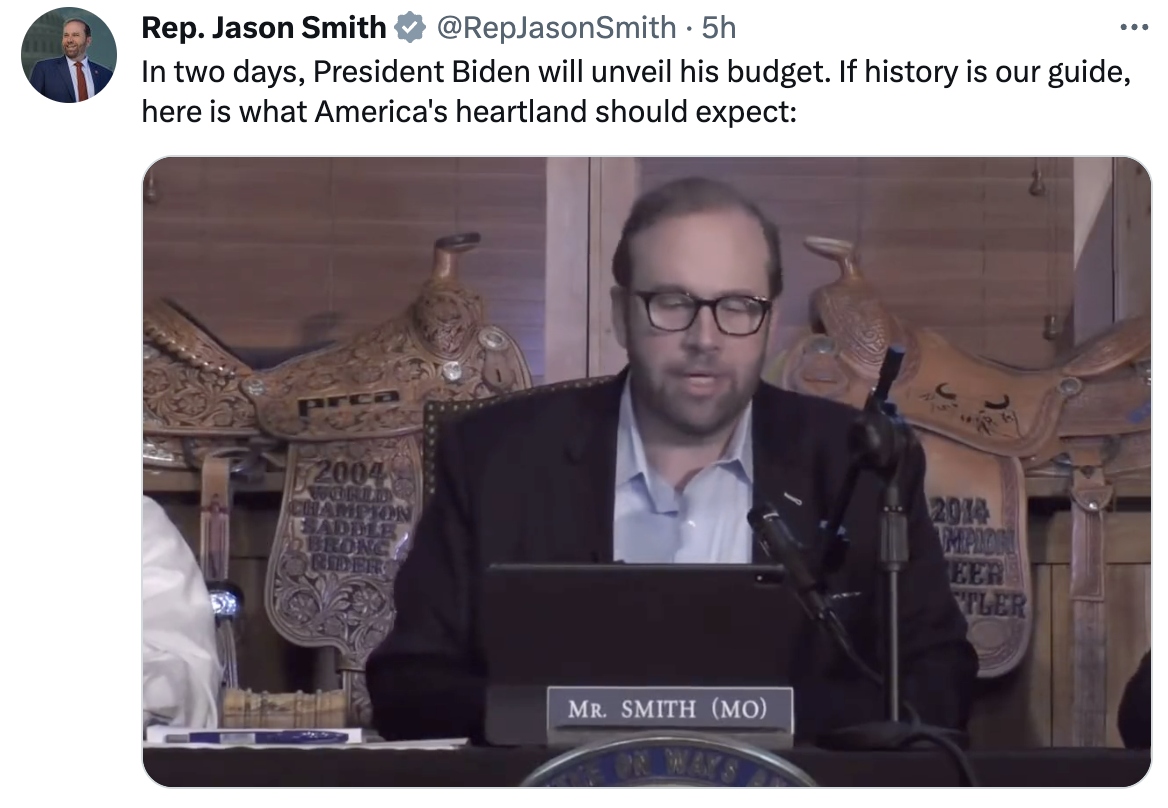 Chairman Smith asked the same question of each witness — how would reducing the tax burden for your neighbors, customers, and employees make a difference for them? Here is what each witness said: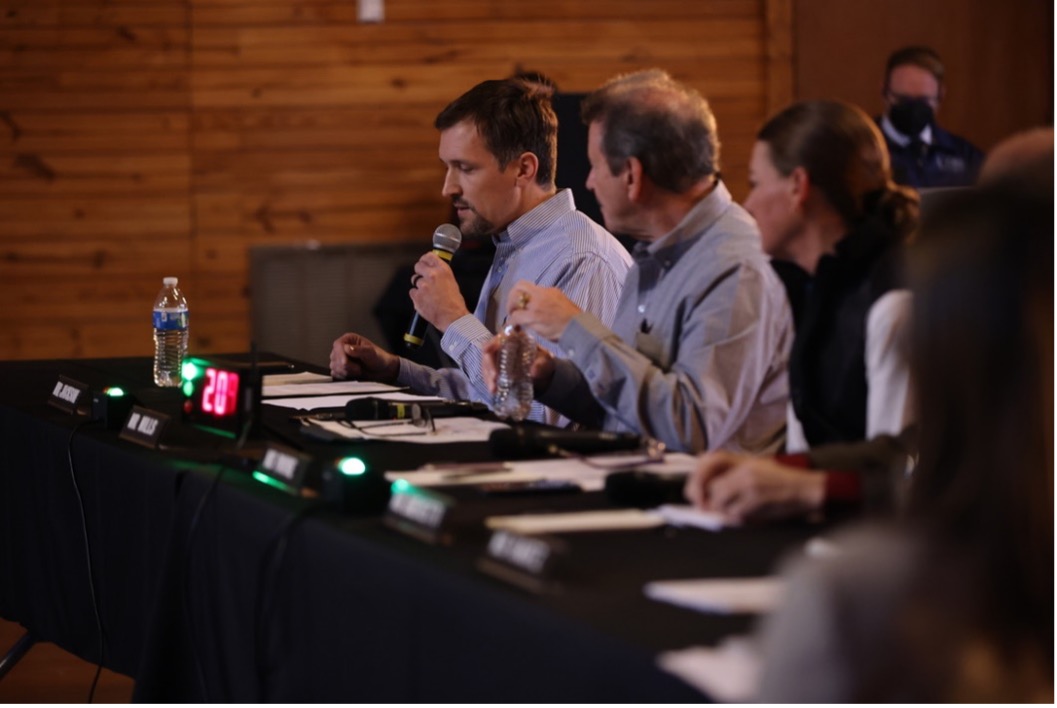 Bryan Jackson
Bryan Jackson, an Army veteran who earned the Distinguished Service Cross in Iraq and opened a meatpacking processing company in 2020, shared how difficult it has been to start and keep a small business open in Biden's America:
"Since we started initial construction during the COVID pandemic in 2020, we struggled not only to find contract labor for the various parts of construction, but also full-time employees."
"Today we are facing an increasingly-challenging work environment where employees may or may not show up to work. As a result, our ability to complete the work we commit to as a service company is made more difficult
"Last year we sent out almost four times more W-2's than the number of employees we currently have on staff."
"The beef industry as a whole is in a tough spot. There is not much profitability for a rancher because the cost of fertilizer and feed is too high.…We would be more profitable if we could process at a lower cost."

Kelli Payne
Kelli Payne, fifth-generation farmer and rancher from Mustang, Oklahoma, and North Central District Vice President for the Oklahoma Cattlemen's Association, highlighted how crises created by failed Washington policies have piled on top of the challenges family farmers and ranchers already face:
"Oklahoma is a beef cow state. Much of our rural economy is dependent upon the cow."
"The struggles of drought are exacerbated by high input costs, including fuel, feed and other supplies. All these negative impacts have caused some ranchers to sell their entire herd and many have indicated that they won't re-stock anytime soon, if at all."
"While this has been incredibly rewarding to us, regretfully, we have had to cancel the last two events due to drought and the current economic state, further reducing our family income as well as cutting off a source of fresh foods to our customers."
"We have enough challenges with Mother Nature; let's not compound the problem with more regulations."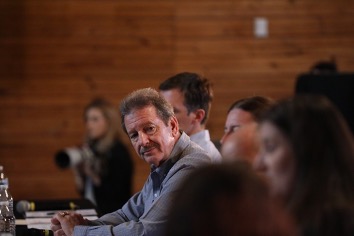 Chuck Mills
Chuck Mills, owner and operator of his family's machine manufacturing company that was founded in Oklahoma in 1908, emphasized that after 40 plus years of running his family business, the labor force shortage, inflation, and supply chain crisis have made this economy the worst of his career:
"It's estimated that only one-half of one percent of U.S. companies have survived 100 years… Mills Machine Company is one of these companies."
"Though we struggled before to find workers before COVID, the pandemic made this struggle so much harder on my company and employers across Oklahoma. It was hard for me, and other business owners, to understand how the federal government incentivized Americans to stay home."
"The lack of workforce is the root cause of all our problems today."
"The lack of workforce and supply chain issues, combined with inflationary pressures, have made this economy the most difficult economy I have dealt with in over four decades."
"In January 2021, our raw materials increased by 25%. The following month, the prices increased again by 15%, and the next month, the prices soared again by 20%. These substantial price increases of 10% – 25% continued for eight months. At that point, our suppliers told us just to call to get the current prices."
"All I ask is for Congress to please allow me to continue running this family-owned business so that I am able to pass it to the next generation. Respectfully, please encourage able-bodied Americans to return to the workforce. Please do not raise tax rates that would further restrict our cashflow. Please do not make it any harder for me to stay in business here in Oklahoma."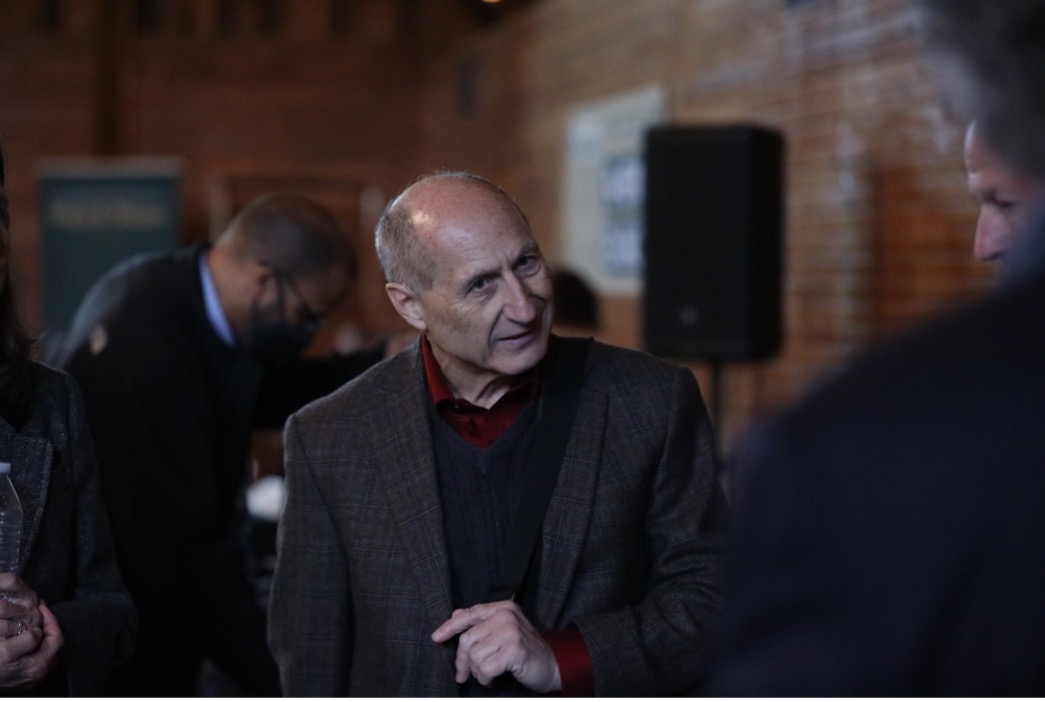 Joe Brevetti
Joe Brevetti, owner and founder of an oil well drilling company in Oklahoma, urged the committee to undo Democrat policies and regulations that are hurting the heartland's oil and gas industry: 
"We don't want special treatment. We just want a level playing field to encourage investment. Burdensome regulations and increased taxes on oil and natural gas production hamper the ability of companies like ours to put Americans to work and bring affordable energy to families across the country. Unchecked inflation has hit all Americans very hard, including us independent oil and gas producers.
"Let's stop going down the same anti-hydrocarbon road that is wreaking havoc in Europe. That is our wake-up call. We don't want an America like that! America needs more energy, not less. More energy for America equates to more prosperity for all Americans."