New Tax Foundation Report Highlights State-by-State Benefits of Pro-Growth Tax Bill
Nonpartisan Study Finds the Tax Cuts and Jobs Act Will Create 975,000 New Jobs, Grow Wages by 4.4 percent for Middle-Income Households
On Friday, the nonpartisan Tax Foundation released state-by-state information highlighting how the Tax Cuts and Jobs Act will grow jobs and paychecks throughout the country.
The study found that, as a result of the Tax Cuts and Jobs Act, annual after-tax income for middle-income households would rise in every state and by $2,598 on average across the country. From an estimated increase of $2,932 in California, to a boost of $2,558 in Texas and $2,703 in New York, the Tax Foundation's analysis shows that Americans from coast to coast will see their paychecks grow significantly in the long run as a result of this pro-growth legislation. Additionally, the study found that the Tax Cuts and Jobs Act would grow our economy by nearly 4 percent over the next decade, create jobs in every state, and deliver 975,000 full-time jobs nationwide.
Ways and Means Chairman Kevin Brady (R-TX) immediately praised the report:
"Our goal from the start has been about one thing – growth. This new data proves that the Tax Cuts and Jobs Act will provide a transformational tax cut for the first time in a generation. From my home state of Texas all the way to Hawaii, we will see more jobs and higher wages for hard-working families all across our country."
Scott Hodge, President of the Tax Foundation, specifically highlighted the pro-growth impacts of the bill:
"[Our] analysis found that the plan would significantly lower marginal tax rates and the cost of capital, which would lead to 3.9 percent higher GDP over the long term [and] 3.1 percent higher wages."
READ the table below to see how our bill grows jobs and wages in your state and across America.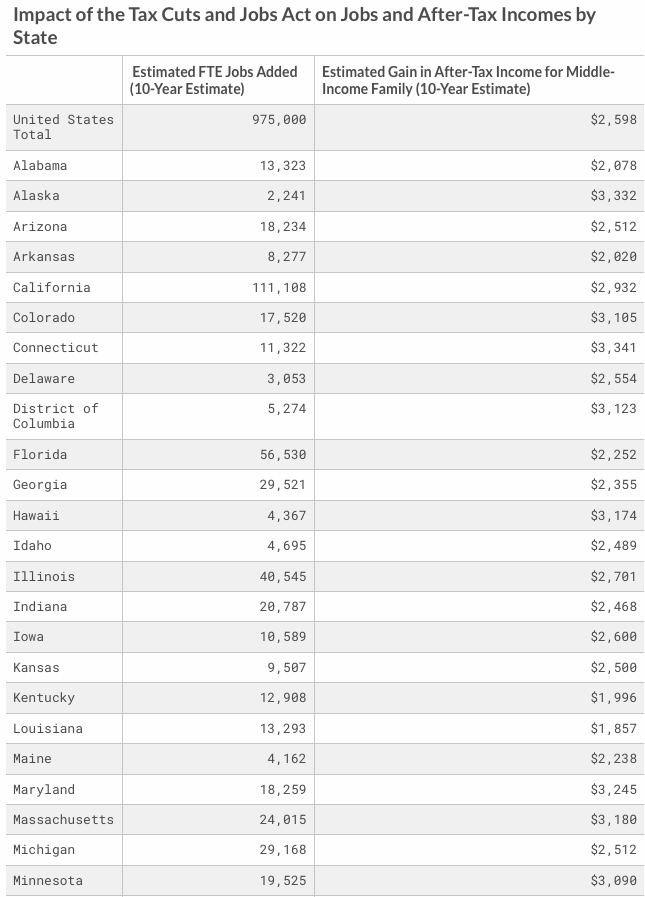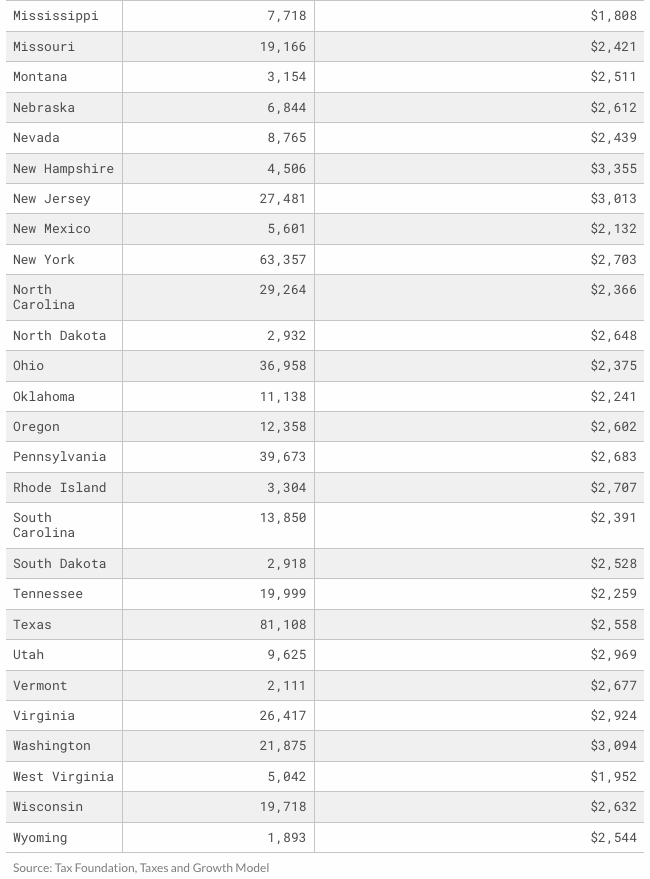 CLICK HERE to learn more about the Tax Cuts and Jobs Act.