Nunes to Ambassador Tai: Patent Waivers Allow China to Exploit American Innovation
Republican Health Subcommittee Leader Rep. Nunes warns against Biden's COVID-19 patent waiver
WASHINGTON, D.C. – During the Ways and Means Full Committee hearing, Republican leader of the Subcommittee on Health Rep. Devin Nunes (R-CA) today warned against the Biden Administration's decision to waive COVID-19 patents, noting that doing so won't aid in the distribution of vaccines around the world and will benefit China.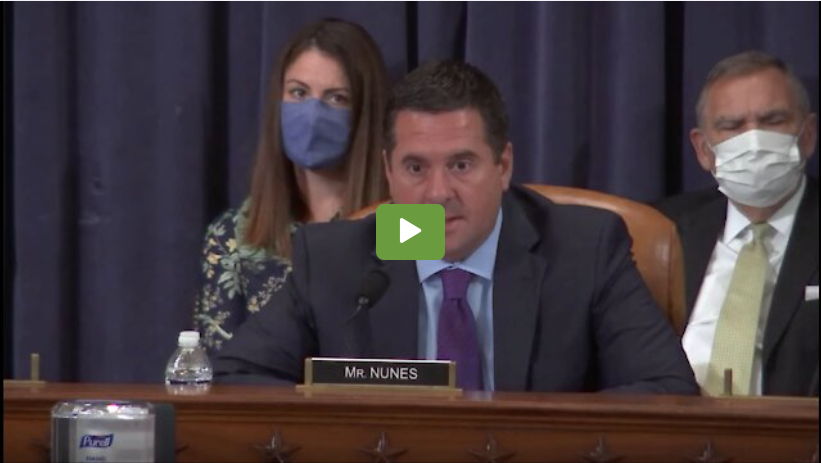 In his line of questioning, Rep. Nunes said:
"It would force the American developers of COVID-19 vaccines and therapeutics to relinquish their intellectual property rights to these medicines, and essentially show foreign nations how to produce these drugs themselves."
Watch the full line of questioning here.
KEY TAKEAWAYS:
Waiving Patent Protections Won't Get More Shots in Arms: It will take manufacturers many months, possibly years, to build the facilities to produce vaccines even with the intellectual property that President Biden is forcing American innovators to give away.
Surrendering American Innovation Only Stands to Benefit China: Unlike other countries – that are facing real logistical hurdles in their vaccine distribution – China will reap the rewards of American taxpayer investment in groundbreaking technology.
On Wednesday, Rep. Nunes wrote about President Biden's surrender of COVID-19 patents in an op-ed for the Washington Examiner. Read the op-ed here.