Brady: GOP Rejects Dems' Sham "Members' Day" Hearing, Call For Real Work on Infrastructure
In a forceful opening statement, Ways and Means Republican Leader Kevin Brady (R-TX) announced that Republicans would not be participating in Democrats' partisan "Members' Day" hearing that allows for no meaningful dialogue between both parties on a crucial issue like infrastructure. Following his remarks, Rep. Brady logged off and kicked off a separate Republican roundtable on President Biden's Recovery-Killing Tax Grab.
His remarks announcing the GOP boycott of the partisan "sham" hearing appear below.
Click here to watch his remarks.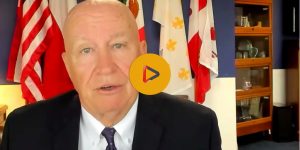 To see Republicans' panel on President Biden's Recovery-Killing Tax Grab, click here.
Rep. Brady's remarks appear below. 
Thank you, Chairman Neal.

As you know, infrastructure has a long been a bipartisan issue in Congress for decades. Republicans and Democrats have come together on finding common ground on key issues whether it's roads and bridges, highways, ports, railroads, broadband, aviation, the broad range of infrastructure. Regrettably, in our view today's hearing is nothing more than another partisan exercise so Democrat House leadership can set up yet another multi-trillion-dollar one-sided spending bill.

While you know I greatly appreciate the opportunity to work with and listen to Members on both sides of the isle in order to achieve something that will improve all Americans' lives, today's hearing regrettably isn't about all Americans.

It's about Speaker Pelosi's partisan gamesmanship. Striving to produce legislation in Washington tax grabs will have enormous harmful consequences for working families and main street business.

This pretend hearing features no expert witnesses, no opportunity for Committee members to respond to or engage with the ideas put forth during testimony. No chance really to voice our own opinions.

Chairman, I know that you feel strongly about protecting the institution of the Committee, as I do. We both have benefited from meaningful Members' Day hearings where we engage with members and discuss ideas together.

In the 115th Congress we came together as a Committee for a Members' Day hearing where Members of Congress shared constituents' experiences, bad ones, with Internal Revenue Service. This was one of over a dozen hearings held on the bipartisan Taxpayer First Act.

By contrast, today's hearing has been used as a sole hearing to check the box to satisfy regular order on a major infrastructure overhaul. This is a topic too important, too widespread, and frankly too costly to politicize this way.

Committee Republicans welcome a fair and deep discussion on infrastructure and economic growth. We urge you to proceed under regular order and hold a real hearing on infrastructure financing before moving any infrastructure-related legislation to the floor.

Republicans therefore will not participate in today's event. We believe this topic deserves discussion up here on the dais between both parties, rather than a long line of testimonies from our colleagues, who we respect. Our Committee has always had a reputation and a tradition for finding common ground on big issues. That work together is what has made this Committee influential.

In our strong working relationship, Chairman, has yielded important reforms. Together we banned surprise medical billing, we ended the tax extender circus, we passed the first in a generation reform of the IRS, we passed first reforms of retirement security in more than a decade.

The things we've been able to achieve together have paid dividends to the American people.

Therefore, I look forward to the opportunity to work with you directly, Mr. Chairman, in a hearing format, where collaboration will once again yield a meaningful benefit to all Americans. This hearing is not it, and Ways and Means Republicans will not be party to it today.

With that I yield back, Chairman.