WASHINGTON, D.C. – Yesterday, House Ways and Means Chairman Kevin Brady (R-TX) joined "Your World" with Neil Cavuto on FOX News to discuss the flourishing economy and take a look back at the last six months since tax reform became law.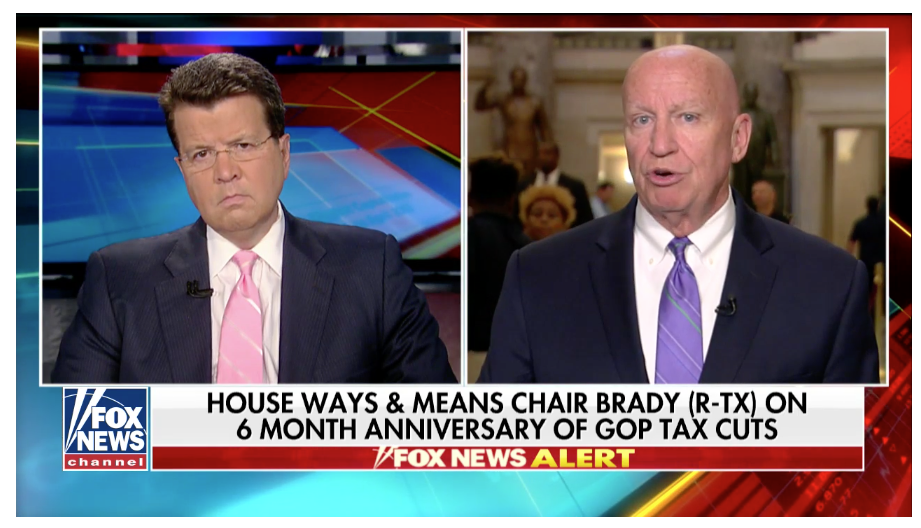 On news that American manufacturers' optimism is at the highest level in 20 years:
"Look, six months, it's hard to find an economic measure that isn't better significantly now than it was before tax reform. 
"And the big news, I think, today was our manufacturers. In America, they used to be the most pessimistic about the future. Now they have the highest optimism as of today in their 20-year history. And more than seven out of 10 are either hiring, raising wages for their workers, or planning to invest more.
"So, clearly, America's back for our manufacturers. The tax codes and more balanced regulation, that's the reason for it."
On businesses investing in their workers, buying new equipment, and bringing jobs back to America:
"Every one of those actions [help] — whether it's investing in the workforce, buying the new equipment to make their workers more productive and raise their wages, bringing dollars back from overseas, [or] announcing new investments here in America. 
"And, going forward, I think, the reason I say the best is yet to come, because so much of this was designed to bring jobs and investment and research back to America. Those are a little longer term.  But across the country, we're talking to businesses who are locating those facilities now in America, putting the patents not in Ireland, but in the U.S., doing the research here as well.
"So, every one of those actions at the end of the day helps that worker and that family."
On the economy, post-tax reform:
"For eight years, our economy was driving like it was in a school zone.
"And every signpost–– higher taxes, uncompetitive code, more and more regulation––just said slow down. Now it feels like we're back on the highway, where America used to be… because we're hitting on all cylinders. 
"And so, I really credit President Trump's policies and a Congress working closely with him."