Ways and Means Advances Real Solutions to Real Problems Faced by Real Americans
Committee passes five bills providing disaster relief, protecting veterans from identity theft, holding trading partners accountable, supporting those reentering the workforce, and allowing clergy members to opt into Social Security.
The Ways and Means Committee approved, with unanimous support, five pieces of legislation this week to address specific challenges facing the American people that deserve common sense, targeted solutions. The bills approved by the Committee will:
Provide tax relief to help Americans recover in the aftermath of recent disasters, including the train derailment in East Palestine, Ohio, wildfires in California and Hawaii, and hurricanes that have impacted our coasts – like Hurricane Ian in Florida.
Protect the personal information of Americans – particularly service members – returning home from abroad.
Create a new position at Customs and Border Protection to better enforce American trade laws.
Provide states more flexibility to deliver reemployment services to unemployment insurance claimants.
Allow clergy members to opt back into participating in Social Security.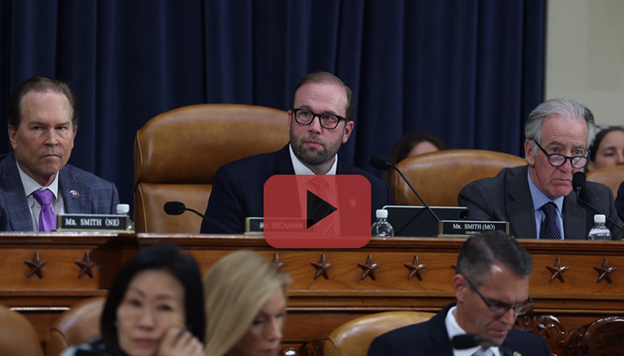 Click here or above to listen to Chairman Smith's opening statement.
During his opening statement, Ways and Means Committee Chairman Jason Smith (MO-08) emphasized the importance of delivering wins for the American people:
"As we have heard in our hearings outside Washington, the American people face a number of challenges. We have already advanced a number of solutions out of this Committee to help, but there is more to do.
"Under the leadership of Speaker Johnson, House Republicans are continuing to work for the American people. We are focused on helping working families create a more prosperous and secure future for themselves and their communities. The bills we will consider today are real solutions to real problems faced by real Americans. Everything from helping protect the privacy of veterans coming home to helping more folks find a job to supporting our fellow citizens who are trying to put their lives back together after a disaster."
The Federal Disaster Tax Relief Act
Introduced by Rep. Greg Steube (FL-17), H.R. 5863 provides tax relief to victims of the East Palestine, OH train derailment, hurricanes, and wildfires.
Provides tax relief to families harmed by the train derailment and toxic chemical spill in East Palestine, Ohio. This provision excludes from taxable income disaster relief payments received by individuals following the East Palestine accident.
Allows victims of a qualified disaster to claim a tax deduction for related casualty losses that exceed $500, in addition to claiming the standard deduction. This provision applies to disasters beginning in 2021 through the enactment of this bill.
Excludes from taxable income wildfire relief payments received by individuals for losses resulting from federally declared forest and range fires.
H.R. 5862 – Helps Customs and Border Protection Enforce American Trade Laws
Introduced by Reps. Michelle Steel (CA-45) and Jimmy Panetta (CA-19), the bill creates a new Global Trade Specialist position at CBP.
A lack of flexibility within Customs and Border Protection (CBP) is impeding the agency's ability to stop foreign bad actors from breaking America's trade laws and harming American workers. This bill creates a Global Trade Specialist position at CBP to ensure the agency is responding faster to counter those like China who are always looking to exert an unfair economic advantage and cheat America's trade laws.
The Global Trade Specialist position will replace six narrowly-defined functions that currently exist within CBP.
CBP plays a critical role in enforcing U.S. trade laws, facilitating legitimate trade, and protecting the American economy. This realignment of CBP's workforce will improve its effectiveness in serving the needs of American workers and safeguarding supply chains.
The Moving Americans Privacy Protection Act
Introduced by Reps. Michael Waltz (FL-06) and Bill Pascrell (NJ-09), H.R. 1568 requires Customs and Border Protection (CBP) to protect personally identifiable information on shipping manifests.
Requires U.S. Customs and Border Protection to ensure that certain personally identifiable information (PII) is removed from any shipping manifest before CBP makes the manifest information available to the public.
Personally identifiable information includes Social Security numbers, passport numbers, and home addresses. Absent a specific request for confidential treatment, CBP does not independently screen manifests for PII.
Currently, CBP is required by law to make certain commercial information contained on marine vessel shipping manifests available for public disclosure, unless an individual proactively requests CBP make the information confidential. There are often delays processing these requests and PII has been made public, despite requests it be removed.
The BRIDGE for Workers Act
Introduced by Work and Welfare Subcommittee Chairman Darin LaHood (IL-16) and Ranking Member Danny Davis (IL-07), H.R. 5861 makes job placement services available to more unemployment insurance claimants.
Makes a correction to the Reemployment Services and Eligibility Assessments (RESEA) program that clarifies reemployment services can be provided to all unemployment insurance claimants, not just those most likely to exhaust their benefits. This change will help more individuals get back to work sooner.
RESEAs are in-person interviews during which UI claimants may receive a variety of services, including personal engagement that receives career information that addresses specific claimant needs; enrollment in employment services, such as job search assistance, employability assessments, or job matching services; development of an individual reemployment plan; and access to at least one additional career service.
Strengthens program integrity by ensuring claimants are complying with eligibility rules – including the requirement that a UI claimant must be able to work, available to work, and actively seeking work.
The Clergy Act
Introduced by former Speaker Kevin McCarthy (CA-20) and Representative Mike Thompson (CA-04), H.R. 6068 creates a window for clergy members to opt back into contributing to and receiving Social Security.
Creates a time-limited, voluntary open season for members of the clergy to revoke their Social Security exemption and opt into Social Security coverage.
Under current law, members of the clergy may apply for an exemption from paying certain taxes on income associated with the performance of ministerial services. The exemption also applies to receiving future benefits. Once the exemption is made, it currently cannot be reversed. Roughly 2,000 members of the clergy receive an exemption every year.
Estimated to provide an improvement to Social Security's short- and long-term finances.