Ways and Means Examines Challenges at Social Security Administration
Retiring SSA Inspector General Details Agency's Ongoing Challenges
Today the Social Security Administration (SSA) Inspector General (IG) Patrick O'Carroll joined members of the Ways and Means Social Security Subcommittee to outline the challenges facing the SSA, as well as what the agency must do to ensure taxpayer dollars are well spent and beneficiaries are well served.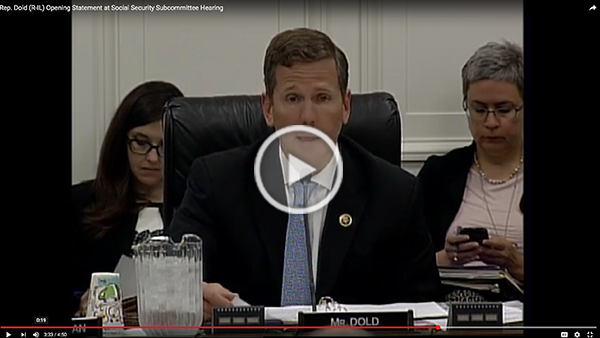 As Congressman Bob Dold (R-IL), who chaired today's hearing, explained:
"Hardworking taxpayers fund the Social Security Administration and they rightly expect that Social Security will do all it can to prevent waste, fraud and abuse. So when Americans hear and read in the news stories about hundreds of millions of dollars of fraud in Puerto Rico and New York, or the agency spending over $300 million on an IT project that has yet to work, you can't blame them for asking questions. Sometimes Social Security's track record doesn't inspire confidence.
"As Members of this Subcommittee, it is our job to make sure that Social Security is spending their money in a way that doesn't violate the taxpayer's trust by paying benefits to those trying to cheat the system or wasting funds on projects that don't work."
Rep. Dold began the conversation by asking Mr. O'Carroll, who retires at the end of the month, what the SSA should be doing to "save taxpayer dollars without compromising the service to the public." Mr. O'Carroll replied:
"The biggest one that we are all very concerned about is the IT security of Social Security" …
"The next one we have been talking about and what the [Bipartisan Budget Act of 2015] recommended is that … SSA needs to be proactive in its stewardship."
Mr. O'Carroll also said the Disability Case Processing System continues to be a serious cause for concern. The agency has spent over $300 million to develop a new piece of software to process disability cases and it isn't complete.  Unfortunately, SSA officials have not determined how much more it will cost. This continued spending puts taxpayers on the hook for funding a runaway project.
Rep. Mike Kelly (R-PA) added that fraud continues to be a major concern for the SSA that could harm taxpayers and beneficiaries in the future. He explained:
"The huge difference between a private entity running a business and the federal government running a business is in the private entity, if it's not able to control fraud it goes out of business. In a government entity, all we do is throw more money at it and say that hardworking American taxpayers are going to have to find a way to cough up more money.
"The real fixes are there. The question is do we have the stomach to do what's necessary to keep this program into effect."
Additionally, as Rep. Jim Renacci (R-OH) pointed out, Social Security Number fraud is causing immediate harm to Americans. Because the agency still uses Social Security Numbers on a majority of its documents, many people have their identities at risk.  When asked what the agency is doing to stop sending documents that unnecessarily contain Social Security Numbers, Mr. O'Carroll replied:
"What we are asking the agency to do is come up with timelines  … and tell us and the Committee when they are going to stop using [these numbers] on documents."
In his conclusion, Mr. O'Carroll reaffirmed his office's commitment to holding SSA accountable for serving beneficiaries and protecting taxpayer dollars. He said:
"The Office of the Inspector General has a critical role as watchdog to ensure that SSA effectively manages this critical safety net for the benefit of all Americans. In this role, we serve both those individuals who benefit from SSA's programs and all taxpayers who place their trust in SSA to be a good steward of their funds.
"Under the next generation of leadership, I am confident that SSA [Office of Inspector General] will continue to help ensure the integrity of the Social Security system—the integrity of payments going out and of the infrastructure underpinning the claims and payment processes. This office will also continue to focus on the role that technology and planning must play in identifying and preventing waste, fraud, and abuse."
Members on both sides of the aisle expressed their appreciation for Mr. O'Carroll's leadership on behalf of hardworking taxpayers. As Rep. Dold said:
"Thank you for the work that you're doing. We know that you want to prevent waste, fraud, and abuse as well. I want to thank you for a long and illustrious career and we certainly thank you for your service to our country."