Brady Busts Tax Reform Myths on Fox News' "Outnumbered Overtime"
Following the House's vote to pass the tax reform budget yesterday, Ways and Means Committee Chairman Kevin Brady (R-TX) joined Harris Faulkner's new show "Outnumbered Overtime" to answer key questions on tax reform: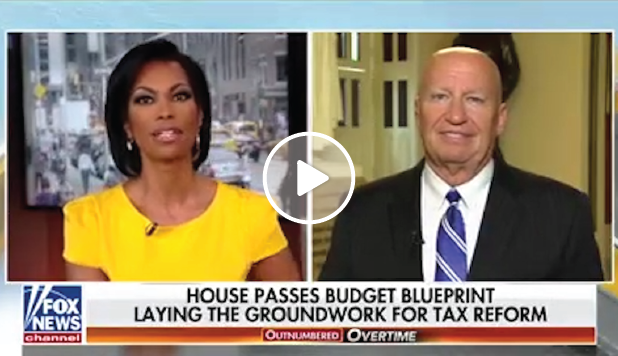 On whom tax reform really helps:
"Our tax reform plan has a major significant tax relief for the middle class. We want Americans at every income level to keep more of what they've earned. And, look, we want to get paychecks going as well. We want you to keep more of what you've earned and we want you to earn more as well. That's why we put an emphasis on our Main Street local businesses because when they're hiring, when they're promoting, increasing those wages – everybody, every middle-class family wins."
On what reconciliation really means for tax reform:
"What it means really is that no one party can obstruct tax reform from going to the President's desk. It doesn't preclude Republicans and Democrats together working on tax reform – in fact I think Democrats bring good ideas to the table as well … When I visit with Democrats they want a very strong middle-class tax cut, they want to see our jobs coming back from overseas, they want to want to see Main Street businesses growing again. So, look, I am hopeful there are still JFK-Democrats who know America needs to be able to compete and win."
On the timing for tax reform legislation:
"We are meeting daily with lawmakers from across the country about the areas they really like, other areas where they have suggestions. Each day we work to improve this to be ready so that when that budget is signed, sealed, and delivered we are bringing tax reform out and we are going to begin to act."
The Ways and Means Committee is now working to turn the unified framework – unveiled by the House, Senate, and White House last week – into comprehensive tax reform legislation that Congress can ultimately send to the President's desk this year, for the first time in 31 years.
CLICK HERE or the image above to watch the Chairman's interview.
CLICK HERE to learn more about our work to deliver bold, transformational tax reform this year.