Brady: President Biden Continues to Attack American Energy, Won't Acknowledge Worker Shortage
Democrats have no plan to address inflation, the labor shortage, or the shrinking economy – instead they continue to attack American-Made energy and push crippling tax hikes, Ways and Means Republican Leader Rep. Kevin Brady (R-TX) discussed on Bloomberg's Balance of Power with Joe Mathieu.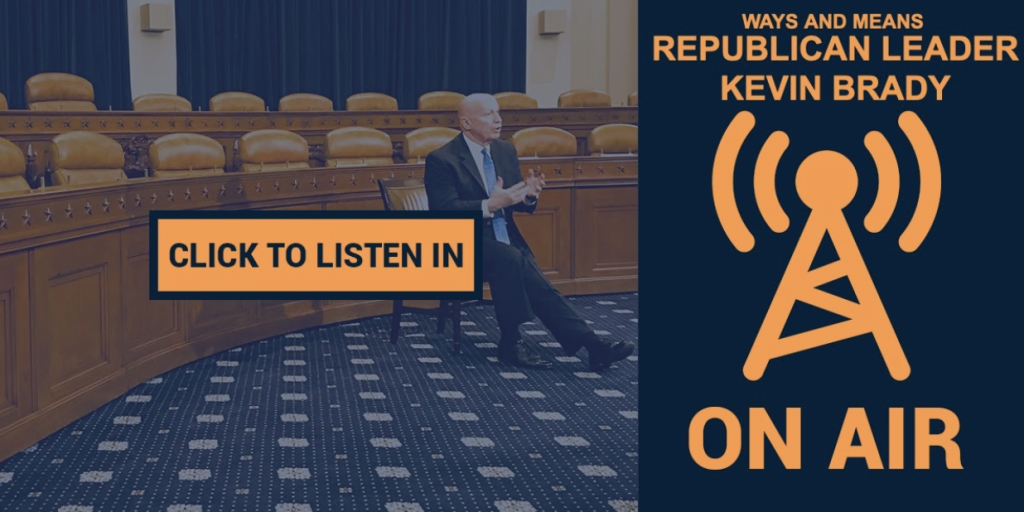 CLICK HERE to listen.
Democrats' overregulation of oil production has worsened the energy crisis:
"There's no question that Texas and U.S. energy companies are working hard to increase production, but they face a lot of headwinds from this President.

"While the Biden Administration is saying 'please produce more,' their actions have been exactly the opposite. Democrats in Congress have been demanding that American energy producers produce less.

"They've been shutting down and discouraging leasing permits, pipelines, and spaces to explore since the day they got in, and were bragging about that just a few months ago."
READ: Americans Brace for More Pain at the Pump
President Biden doesn't have a plan for his shrinking economy:
"We've got a shrinking economy, down 1.4 percent last quarter. We've got a shrinking workforce. Last month, we saw 350,000 workers exit the workforce. We're going to be looking for those numbers tomorrow. Obviously shrinking paychecks and pessimism both among families and our businesses, especially small businesses, is at near record levels. There is just a big worry, most Americans feel this economy is in very bad shape."
READ: President Biden Doesn't Have a Plan to Fight Inflation
On what can be done to address inflation, Rep. Brady said:
"One, sit down with Republicans and figure out how we actually give a green light to American-Made energy both short and long term. I think that's really key. 

"Secondly, he should acknowledge he's got a worker crisis. He's not talked about it once. There are no policies for it. We can help him with that. We think there's some smart things you could do to incentivize people to reconnect to work, versus the Biden policies that do the opposite. 

"Third, we would work with him to drop these tax hikes. If you hike taxes on Main Street businesses, it will end up in higher prices."
READ: ONE-PAGER: If Fighting Inflation is Dem' Top Priority, Why Won't They Work With GOP?