Chairman Smith to Hannity: Joe Biden Was Not only the Brand, He Was a Beneficiary of his Son's Business Dealings
WASHINGTON, D.C. – Last night, Ways and Means Committee Chairman Jason Smith (MO-08), alongside House Speaker Mike Johnson (LA-04), Judiciary Committee Chairman Jim Jordan (OH-04), and Oversight Committee Chairman James Comer (KY-01), joined Fox News host Sean Hannity to discuss the latest on the House Republicans' impeachment inquiry into President Joe Biden.
Chairman Smith underscored the mountain of evidence implicating President Biden in his son's business dealings, as well as a disturbing pattern at the Department of Justice (DOJ) of impeding the investigation into Hunter Biden and blocking any investigative step that could have led prosecutors to Joe Biden:
During the interview, Chairman Smith highlighted:
700 pages of new evidence from the IRS whistleblowers released by the Ways and Means Committee in September that corroborated their earlier testimony to Congress and showed any investigative step that could have led to Joe Biden was stopped in its tracks by DOJ officials.
Those documents, combined with evidence of direct payments to Joe Biden obtained by the House Oversight Committee, show President Biden was not only the "brand" his family was selling around the world, but he was also a beneficiary of their lucrative overseas influence peddling scheme.
The direct payments from James and Sara Biden to Joe Biden is not the first time the Biden family has used suspect "loans" to move money to family members. Chairman Smith highlighted another instance where a high-profile entertainment attorney, Kevin Morris, began paying Hunter Biden's unpaid taxes at the same time his father was running for president. Hunter Biden's defense attorneys later sought to categorize that payment, which totaled more than $2 million, as a "loan."
The whistleblower documents show investigators were blocked from pursuing potential criminal campaign finance violations by the Biden campaign related to the Kevin Morris "loan" because a DOJ prosecutor in Delaware, was not "personally interested" in the matter.
Congress has yet to see evidence that these payments to Joe Biden were in fact related to loans despite requesting this information from the White House. The evidence suggests that Joe Biden was benefitting from his family's foreign business dealings. If this was a legitimate loan, he should quickly provide the loan documentation to answer these questions.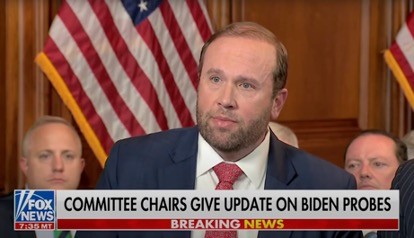 Click here to watch Chairman Smith's remarks.
Interview excerpt:
Chairman Smith said, "Just last month, we released over 700 additional pages [of evidence] that came from our two IRS whistleblowers…What we learned is that Joe Biden was not just the brand that [the Biden Family] were selling all over the world, but in fact, he was benefiting from selling it.
"One example is the IRS whistleblowers' claimed that they were going to investigate Joe Biden's campaign for a loan that Kevin Morris had done to pay more than $2 million worth of taxes of Hunter Biden. And this happened at the beginning of the 2020 campaign, which would have been a huge, huge, huge message in that campaign. But what did they do? The Justice Department? They wouldn't allow it. They said they had no interest in investigating the Biden campaign."
READ: Chairman Smith Op-Ed: Biden Family 'Loans' Raise Serious Questions
READ: Bombshell: Ways and Means Releases New Documents Revealing Hunter Biden Selling Access to White House, Investigators Blocked from Pursuing Evidence Related to President Biden
READ: ICYMI: New Evidence Reveals Justice Department Blocked Investigation Into Potential Biden Campaign Finance Violations
READ:ICYMI: Documents Confirm Joe Biden was his Family's "Only Asset" and "The Brand"