Brady: Under President Biden, Working Women Haven't Faced an Economy This Bad in Decades
Under President Biden, workers and families are suffering from a dangerous baby formula shortage, raging inflation, and shrinking family budgets. In opening remarks for a full Committee hearing, Republican Leader on the Ways and Means Committee Rep. Kevin Brady (R-TX) outlined solutions to address the worker shortage and inflation for a stronger economy.
READ: LETTER: Under President Biden, Working Women Haven't Had It This Bad in Decades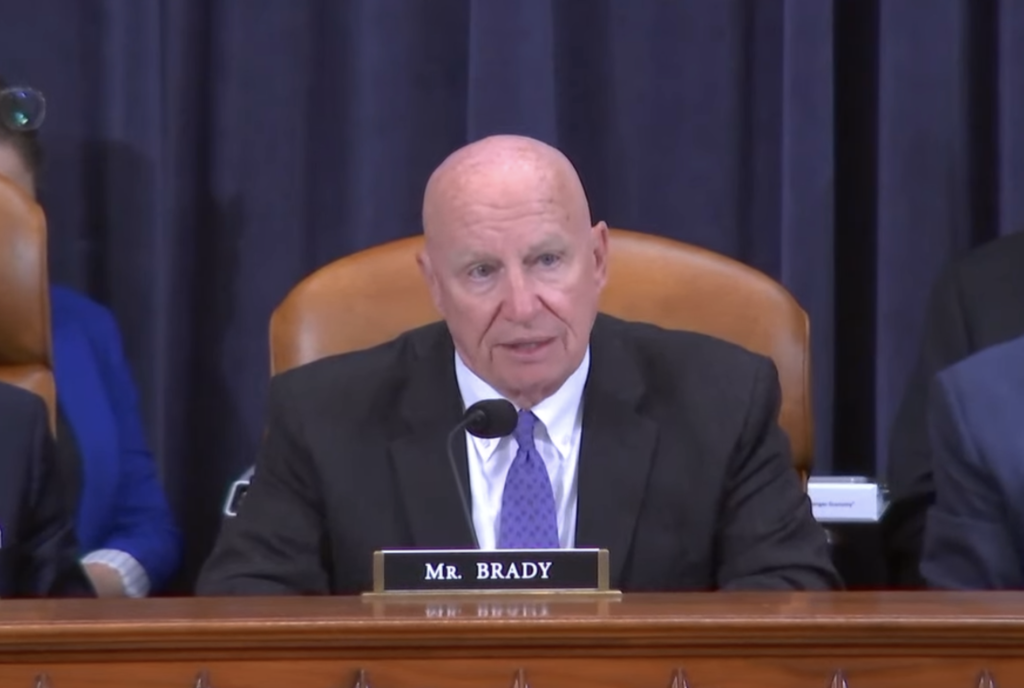 CLICK HERE to watch Rep. Brady's remarks.
Rep. Brady's full remarks as prepared for delivery appear below.
Thank you, Chairman Neal, for hosting this hearing today.

 

As Republicans, we're eager to work with you and Democrats to find common ground on an issue everyone can agree on — improving the lives of working families.

 

Especially under President Biden, where women, workers, and families are suffering: A dangerous baby formula shortage. Raging inflation that is driving the price of everything up and shrinking family budgets. Record rising crime. And for women-owned businesses, both a worker shortage and double-digit Biden-Flation that is threatening their very survival.

 

Under President Biden, working women haven't had it this bad in decades. And with a looming recession, real wages shrinking, and even higher gas prices ahead, it looks to be getting worse.

 

No wonder the Wall Street Journal reported that Americans are deeply pessimistic about the U.S. economy.

 

Unfortunately, the Democrat-controlled Congress has taken a partisan, go-it-alone approach that has failed to solve these issues: Ramming through a nearly $2 trillion, unpaid "COVID stimulus" that fueled inflation and did nothing to drive child-care costs down, and passing a bitterly partisan Build Back Better bill that independent experts revealed included a new "Toddler Tax" that raises child-care costs on working families by $13,000 to $27,000 a year, depending on where you live.

 

There is no evidence that the expanded Child Tax Credit lowered child poverty by 40 percent. And the $54 billion in emergency child-care funding has done nothing to lower child-care costs. In fact the cost of child care continues to rise — just ask any parent.

 

This hearing is about what working women need for a stronger economy. And I think if we work together we can achieve that. 

 

I wish our colleagues would not have developed their bill in private without Republican input, because according to CBO's analysis, the government-run mandate means most employers who currently offer paid family and medical leave would ultimately provide fewer weeks of leave and less pay during leave.

 

We could have had a solution by now if we had worked together, and helped low-income and single-income families like that of Jennifer Villegas, a 19-year-old mom who lives with her five-month-old son in my home state of Texas.

 

Already unable to afford child care, Ms. Villegas reported that her family often has to choose between filling up their gas tank and buying groceries.

 

Unable to afford driving to multiple stores, she has turned to the internet in her search for infant formula, where she's lost more than $150 to scammers.

 

When she finally does find formula in stock, she's hit again with high shipping costs.

 

This is the harsh reality of President Biden's cruel economy. 

 

We need to work together to help women like Ms. Villegas and her family.

 

Here are our ideas. Last year, working with Republicans on the Education & Labor Committee, we unveiled the "Protecting Worker Paychecks and Family Choice Act."

 

This initiative expands access to paid family leave and child care and provides greater flexibility and choice to parents while focusing the greatest benefits on low-wage workers.

 

This is a contrast to the new Build Back Better government mandates on small businesses and a new entitlement program that shifts control of the paid leave program to the Social Security Administration, resulting in more Washington control and lower paychecks. 

 

We expand access to paid family and medical leave by incentivizing more businesses who don't currently offer paid leave, and focusing on gaps in coverage – where the real problem lies.

 

And we expand access to affordable child care by leveraging the existing $50 billion in new investments, targeting funds, and preserving parent choice including in faith-based child care.

 

Our bill also has the added benefit of being extremely popular with the American people: 49 percent of voters support Republican ideas to expand access to paid leave versus Democrat's' new government-run paid leave entitlement.

 

This builds on our pro-family work, like the Family and Medical Leave Tax Credit in the Republican tax cuts bill, the first ever national paid leave initiative.

 

Our approach allows workers and their employers to work together for their benefits without Washington intervention. We encourage job creators to offer workers up to 12 weeks of paid family medical leave.

 

We didn't just stop there: 39 million families benefited from our doubling of the expanded child tax credit.

 

We also worked successfully to establish a new baby savings provision – allowing millions of parents to borrow from their savings plans to pay for expenses, including leave from work.

The results speak for themselves: After passage of the Republican tax cuts, the unemployment rate for working moms hit a 66-year low. This was true for mothers of every color and academic achievement level.

 

Not only were more moms working, but their wages were also going up at a faster rate than ever.

 

And in 2019 alone, household income grew more in one year than in all eight years of the Obama-Biden Administration combined. And those wages grew much faster than inflation, giving families a pay raise, not a pay cut, as under this President.

 

In short, Mr. Chairman, if we work together on the best ideas to expand paid family and medical leave, we can empower moms and dads to pursue their careers while building strong and thriving families.

 

Thank you.